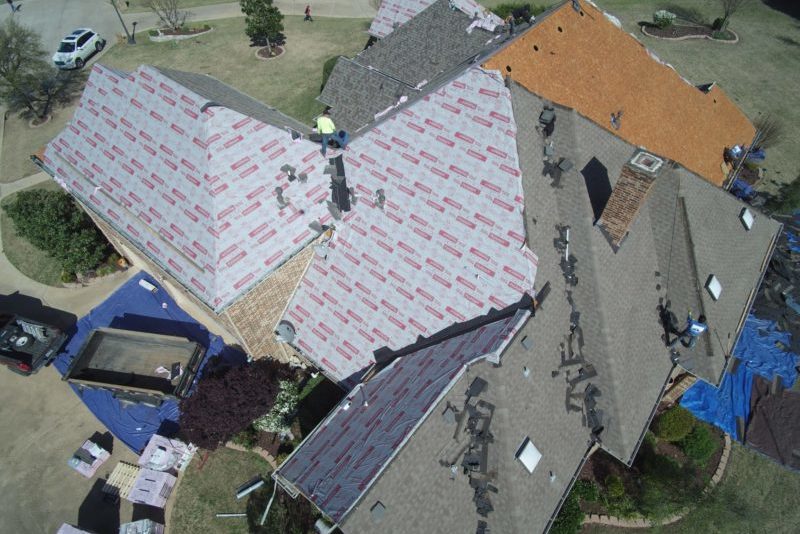 You can't always control the schedule of home maintenance. If you need to replace your roof, you may not be able to wait. That's especially true if you're experiencing leaks or rot. Many people wonder if their new roof can be installed in the winter. That is certainly possible, particularly if you're dealing with an emergency. However, there are some considerations that you should take into account when planning a roof installation in cold weather.
Should You Replace Your Roof?
Your roof protects you from the elements, rogue birds and other animals. It also helps with temperature regulation.
But nature can take its toll on a roof. Wind, rain and debris deteriorate the shingles over time. With regular wear and tear, a properly installed roof must be replaced every 15 to 20 years.
However, you may have to replace your roof sooner than that if it becomes damaged. If you wait, you could end up spending more than you expected to repair deterioration that occurred in the interim.
What Is the Best Time to Install a Roof in Texas?
Temperature plays a critical role in roof replacement. Hammering traditional shingles into place when it's colder than 40 degrees Fahrenheit can make them crack. Technology has improved over the years, and many modern shingles can withstand colder temperatures better than older styles.
Still, care should be taken when installing shingles in cold weather. They should be warm enough to be pliable so that they don't break when they're handled.
Presidio Roofing follows the best practices for installing roofs in any weather. Shingles absorb the sun's heat. Therefore, they should warm up to an ideal temperature for installation on a sunny day.
It's best to avoid installing a roof when there is wet precipitation, such as snow or rain. However, the climate in the area makes it convenient to replace a roof throughout the year. The sun is often shining, and minimal snowfall allows Texas roofers to work on installations in any season.
These temperature guidelines are specific to asphalt shingles. Other roofing materials, such as metal, are not as susceptible to changes in cold weather. For example, Decra roofing is made of stone-coated metal and was developed to withstand extreme climates. These types of roofs are also more durable than asphalt because they don't deteriorate when they're exposed to sun, rain and snow.
Why Winter May Be an Ideal Time to Replace Your Roof
You don't see many roofers out in the winter. However, that doesn't mean that you can't replace your roof during this season. In fact, there may be benefits to installing a roof in winter.
Faster Service
Spring and fall are typically the busiest times for roofers. Scheduling your project during those seasons can take time. When you make an appointment to repair or replace a roof in the winter, you're likely to be at the top of the contractor's list.
Lower Costs
Because demand for roofing is lower in the winter, your cost may also drop. Ask about discounts or sales if you're planning to repair a roof during this season.
Reduced Energy Bills
If your roof is old or damaged, it could be contributing to hefty electrical bills. Replacing your roof usually lowers your power bill. A properly installed roof insulates the home properly, balancing the indoor temperature no matter what the weather is doing outside.
Moreover, roofing materials are always being improved. You may have access to options that you didn't a decade ago. You can also opt to change the color of your roof for additional energy savings.
Replacing your roof in early winter lets you take advantage of these savings during the coldest months of the year. Plus, you'll continue to reap the rewards as you shift into the hot summer months.
Necessary Precautions for Roof Installation in Winter
Roofers must take precautions when working on projects in any season. An experienced company will protect themselves and your home by taking the following steps:
Scheduling the job when the weather will be clear and mild
Ensuring that the materials are warm before and during installation
Using proper fall protection equipment to stay safe in icy conditions
Exercising good judgment to protect your home and postponing the work if the weather isn't ideal
Don't Delay Your Roof Repairs
If you don't fix your roof in a timely fashion, you can end up with pest, mold and mildew problems. Once a leak begins, it won't remedy itself. Even if there is no rain or snow, condensation can enter the structure and cause moisture problems. Neglecting your roof can make your property value plummet.
Scheduling an installation in the winter can safeguard your roof. In cold temperatures, imperfections and cracks can become filled with water. When that water freezes, it expands and exacerbates the damage. Instead of waiting until it becomes an emergency, you can get peace of mind by replacing your roof before the first ice storm.
A reputable roofer will give you an honest recommendation for the best time to replace a roof in Texas. Use a licensed, experienced roofer who is familiar with the area's climate. Winter roof installations require the use of special tools. Your contractor must know what they're doing so that the shingles heal properly.
Presidio Roofing is available throughout the year so that you can schedule your roof installation at your convenience. Contact us for a free estimate.