Commercial Roofing Contractor in San Antonio, TX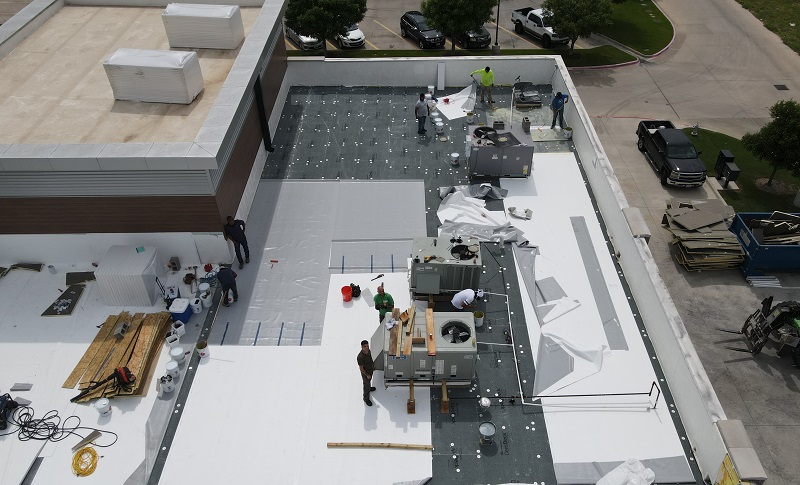 Presidio Roofing is the most efficient and trusted commercial roofing company in the San Antonio area. We specialize in:
Flat and Steep Commercial Roofing Repair and Replacement
Expert Installations of TPO, EDPM, PVC, Modified Bitumen, Liquid Applied Coatings, Metal, Shingles, Tile, Stone Coated Steel, F-Wave, Composite Tile/Shake, and more
Hail and Wind Damage Inspections per HAAG Engineering Standards
Leak Detection utilizing FLIR thermal imagery cameras
Commercial Roof Drone Inspections
Industry Leading NDL warranties on most products
Maintenance and Basic Repair Services
Most 5 Star BBB reviews in San Antonio
Preferred Roofing Contractor of the Largest Insurance Agency in Texas
Product certifications include GACO, Mule Hide, Owens Corning, and many more
The best available commercial shingle warranty on the market (Owens Corning Platinum Preferred)
Commercial Roof Replacements
When it comes to replacing your commercial roofing system the process can be exhausting. As San Antonio's best commercial roofing company we pride ourselves in making the process as easy and efficient as possible. We achieve the highest level of customer satisfaction in the industry by prioritizing the following:
Fast Service:
A leaking roof causes significant complications to any businesses operations and thus expedient service is key. At Presidio we prioritize our commercial clients and make every effort to be on site immediately after any call. We know that when you call for an inspection you need it done asap and we are here for you.
Sometimes before you replace your roof you need to just keep the water out. While inspecting your roof and working to create a custom estimate for the replacement we also provide emergency and temporary repairs to keep you dry in the meantime. We can provide basic patches, lay-overs, flashing repairs, full building covers, and more.
Comprehensive Estimates:
We are extremely detail oriented and when replacing a commercial roof that is paramount. Any roofing contractor who is not giving a comprehensive estimate is likely setting you up for unnecessary additional costs as the project develops. We vow to provide you with the most detailed estimate possible in relation to materials, work scope, labor scope, potential issues, pricing, loss of use expectations, project supervision and management, and work time frame, so that you can have peace of mind before starting your commercial roofing project.
Industry Leading Warranties:
A roofing contractor is only as a good as their warranty. As one of the most trusted and long term roofers in San Antonio we cannot afford to have a bad warranty service. Our owner's family goes back 13 generations in San Antonio and the folks we serve are our neighbors. We want you to be happy and dry and if there ever is an issue in your roof installation we will come out and address it per your individual warranty terms. We are qualified to offer various NDL warranties on many products as well as varying degrees of labor and work scope warranties. Roofing is a business of relationships, and we aim to create long lasting and successful relationships with every client and a solid warranty builds that foundation.
Commercial Roofing Storm Damage Claims
The primary reason for any roofing replacement in Texas is storm damage. Wind, hail, and tornadoes are just part of life around here. At Presidio Roofing we have become true subject matter experts when it comes to inspecting roofs for storm damage and helping guide clients down that path if necessary. We work with every insurance company and are the preferred roofer of Texas's largest Insurance Agency. We use all the newest and most effective inspection tools and techniques to give you an accurate picture of potential hail or wind damages. Tools such as FLIR thermal cameras, Drones, and digital microscopes help us to not leave any damage unnoticed on our inspections.
When it comes to working with your insurance company to come to agreements on the scope of work, we are true professionals. In Texas a roofing contractor cannot act as an adjuster on behalf of a client, but we can help clients and adjusters when it comes to defining and estimating the needed work scopes to bring a property back to pre-storm condition. We value our relationships with all the insurance companies in San Antonio and we help to streamline the process and reduce the timeframe for you. Commercial Roofing Insurance Claims are our specialty!
Defending Your Home
is Our Mission
Commercial Roofing Materials
Low Slope Products
Low Slope roofing products refer to products used to water and weatherproof flat or nearly flat roofs. The four most common flat roofing products are TPO, EPDM, Modified Bitumen, and PVC. Liquid applied coatings made by companies like Firestone and GAF have also started to become very popular especially for use over existing roofing systems. Your project managers will help you decide what product is best for your property but some of the key information about them are:
TPO roofs are synthetic rubber roofing membranes made from thermoplastic olefin. They are extremely popular these days due to their durability, energy efficiency, and resistance to UV rays. It is a lightweight and cost-effective product as well. The membranes do not self-adhere and can be prone to shrinking or wrinkling if not installed by an expert with the right machinery. We are experts.
PVC is a thermoplastic membrane made from polyvinyl chloride. It is similar in appearance to TPO and has most of the same benefits. They are very popular in buildings above restaurants due to their ability to withstand grease and chemicals. They must be installed by an expert like TPO and are generally a little more expensive. One potential con is they become brittle in extreme cold.
EPDM roofs are synthetic rubber membranes that are easy to install and have significant advantages with extreme weather temperatures. They are however very sensitive to chemicals and solvents and thus not appropriate for many commercial property roofs.
Modified Bitumen is a type of asphalt-based roofing product that is made by adding modifiers like rubber or plastic. It is extremely popular and can be installed in a cost-effective manner by self-adherence or hot mopping it. It is most common on older buildings and oftentimes contractors will continue to build up layers of it on top of older layers creating a "built up roofing system" which works but can cause issues due to its weight. It is always better to remove any roofing system to the substrate, but it's not always required. Modified bitumen is prone to cracking but can be repaired with tar and other similar products.
Liquid Applied Roof Coatings have an extremely wide range of use and are becoming more and more popular due to their versatility. One example includes using Firestone Fluid Applied Elastomeric coating to fully cover metal buildings and essentially remove all seams where water could leak through. Another common system use would be a polyurethane spray foam roof with a liquid applied coating which provides a completely seamless roofing system that does not have the leak exposure of membrane products.
Other Aspects of a Commercial Flat Roof
Aside from the main products listed above there are many other products to choose from on any commercial flat roofing system. Some include:
Insulation Board is a product that provides the insulation to the building. It exists underneath the main roofing membrane and can vary in thickness depending on local codes. In Texas it is common to follow the most recent International Energy Code which will stipulate a certain R-Value needed. The R-Value is the thermal resistance factor and different products have different R-Values. Likewise, on flat roofs with no pitch at all, the insulation board can be tapered to provide minor sloping for water to flow towards designated drains or gutters. The Insulation R-Value and any potential tapering plan is always part of our comprehensive work estimates.
Roof Boards like DensDeck made by Georgia Pacific are thick cover boards that go between the insulation and the main roof membranes. These are not required but provide extra security from fire, extra insulation value, as well as a protection of the insulation board from damage due to hail which is very relevant to us in San Antonio and Denton.
Flashings are the all-encompassing word for any product that bridges the gap between the main roof membrane and a transition to another product. Flat roofs will have flashings are plumbing pipes, HVAC units, ventilation units, walls, parapets, gutters, and roof edges. Flashings are generally where most leaks are found and require extreme precision by the installer.
Walking Pads are and additional product that can be installed on top of the final roof system. These are common on large roofs which are commonly serviced for things like HVAC systems. They provide a safe place for technicians to walk when performing repairs that wont damage the main roofing membrane.
Steep Slope Products
Steep slope commercial roofing products are the same you would see on residential properties. The most common include asphalt shingles, tile, and metal. You will see a breakdown of all the various steep slope roofing products in their appropriate sections on the website.
Defending Your Home
is Our Mission
Best Commercial Roofing Contractor In San Antonio
At the end of the day, no matter our experience, our efficiency, our knowledge, or our quality, we know that what matters most to business owners is Trust. Roofing is a business of relationships and trust. So if you need a commercial roof repair or commercial roof replacement just fill out the form below and let one of our top project managers show you why Presidio Roofing is the most trusted roofing contractor in San Antonio.