Gutter Installation Service in San Antonio, TX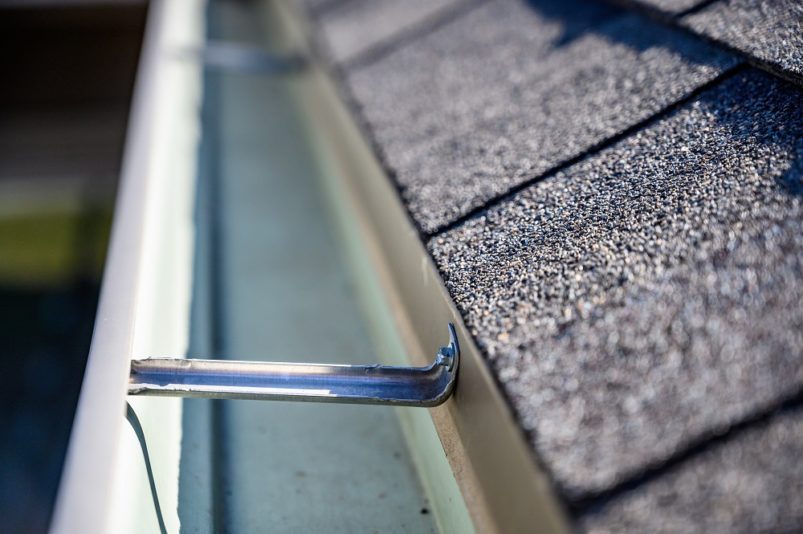 A properly functioning gutter system is one of the most important things you need to protect the longevity of your home. Texas has a great deal of rainfall, as you are well aware, and San Antonio alone averages around 32 inches of rain per year. As an illustration of how much water that entails, visualize a 3,000 square foot roof that has the equivalent of about 1,400 bath tubs of water pouring off the roof each year. Without a proper way to route that water away from a home's foundation, serious and costly long-term issues will end up occurring.
Gutter Systems
Presidio Roofing has seen the negative effects of poor or non-existent gutter systems over the years and we know how important this is to address with homeowners. We now offer the best pricing, quality, and service for not just roof replacements, but also for gutters. With our in-house Sennox gutter machine and trained Presidio Roofing installers, we can provide the highest quality 5" and 6" seamless aluminum gutters in the region.
Unlike the majority of roofing companies who will subcontract out the guttering job or just leave you to find your own resource, work directly with Presidio Roofing for your gutter replacement. We already have a reputation for the best roofing services in San Antonio and we want to show you that our quality gutter services live up to that reputation as well.
Overview of Our Gutter Install Process:
A Presidio Roofing project manager will schedule your initial at home consultation.
During your consultation, a project manager will walk the exterior of the home with you and design the best system for optimal water flow and the aesthetics of your home.
Presidio Roofing will bring color samples and examples of previous work so you can decide what look you want for your home.
Once you choose your materials, your project manager will be able to give you pricing on the spot, and if you decide to move forward, a work order can be created.
The office will call you to schedule a day for the installation and give you an idea of how long the installation will take.
The Presidio Roofing team will arrive on the scheduled date to install the new system for you with utmost professionalism, quality, and cleanliness.
Along with gutters, we also offer various options for gutter guards. Gutter guards help to make sure the water flow in your gutters is unobstructed and that the gutters are doing their job. With gutter guards, you can avoid the nuisance and danger of cleaning the gutters yourself throughout the year. If you are interested, your project manager will be able to discuss gutter guard options and placement with you as well.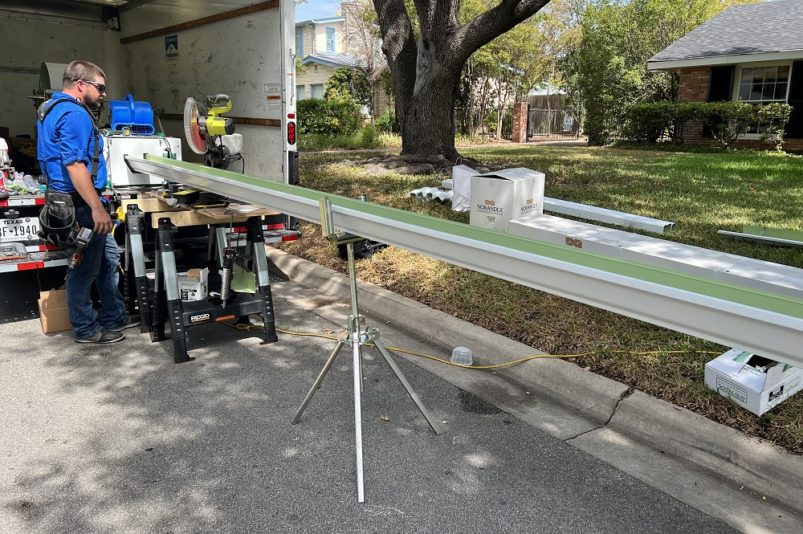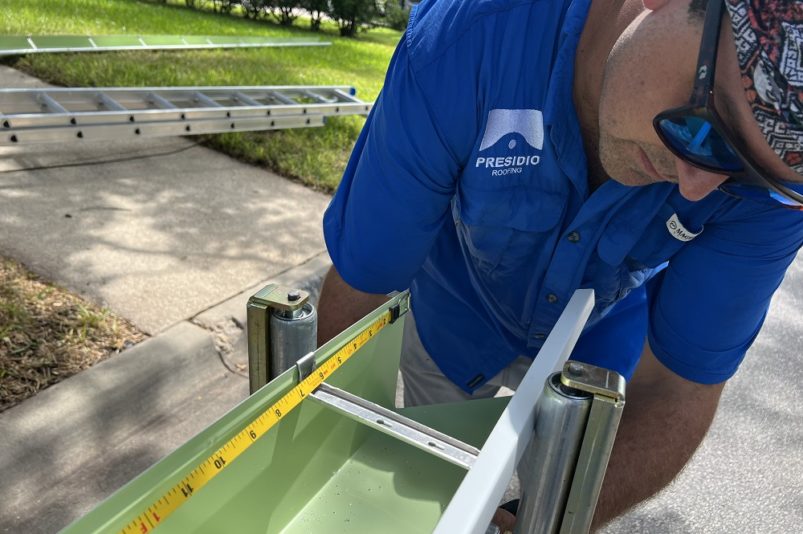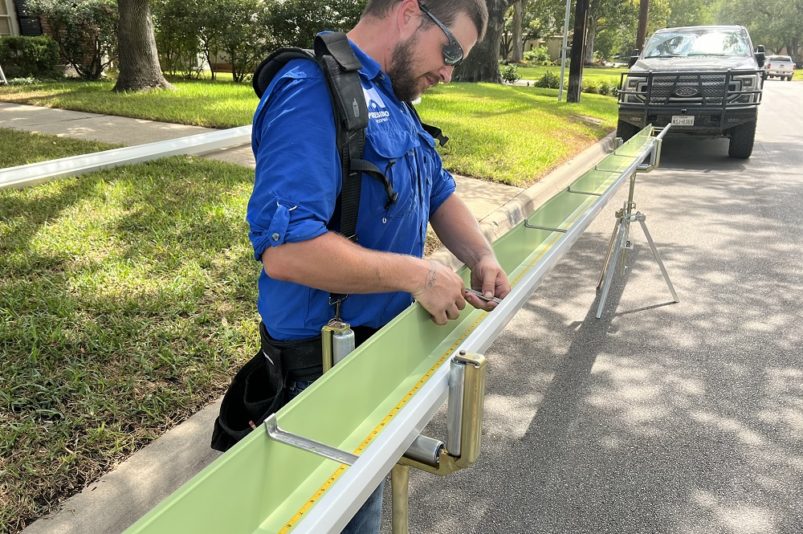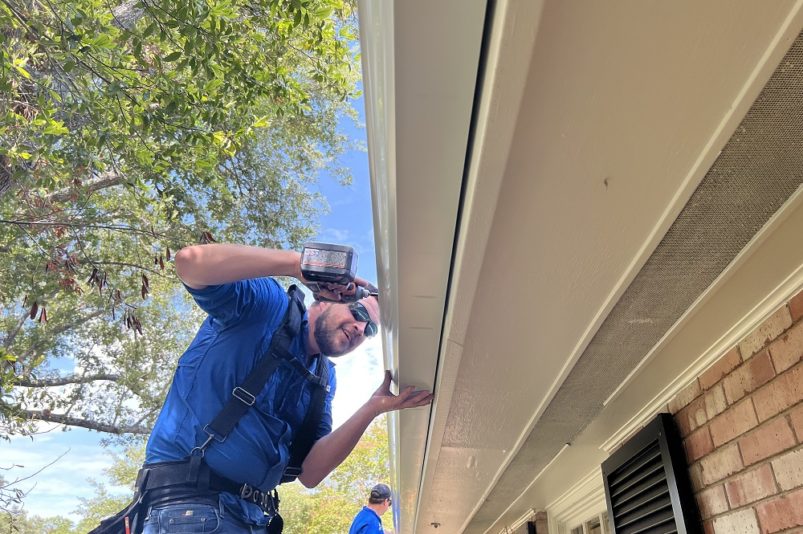 Why Utilize Professional Gutter Installers?
You might be tempted to try to install your own gutter system, thinking it is just another DIY project. Beware! While in some ways it's a relatively simple concept, the skills, knowledge, and experience Presidio Roofing experts bring to the process has a significant impact in a variety of areas.
The first thing to understand is that a gutter shouldn't be considered as a separate element from the roof. Rather, it's important to see the roof and gutter as part of a combined mechanism to ensure water runs away efficiently in the safest direction. The pitch of your roof can influence the volume and speed of the water running down to your gutters, and this will determine the size, type, placement, and even the pitch of the gutter that will need to be installed on your property to prevent ineffective drainage. A professional installer can assess these aspects more accurately, minimizing the potential for costly or damaging errors, do-overs, or damages to your structure.
The pitch of your roof isn't the only aspect that can affect the gutter installation. Even regional weather conditions can mean a custom approach. If you've moved here from a different state, you may be surprised that what seems like a small difference in the rainfall volume makes a difference in the size of gutter that is required. This is why collaborating with Presidio Roofing's local experts is extremely valuable. We have years of experience installing gutters and roofing systems in the San Antonio area, and know the specific challenges property owners face here. Without expertise in this area, you cannot be confident that your gutter installation is suitable for your home.
At the very least, a gutter installation by a professional is a much faster and more reliable approach to the process. You will minimize any potential safety issues that may arise from trying to install the gutters yourself and will have a professional end product.
Defending Your Home
is Our Mission
Gutter Repairs in San Antonio, TX
In some cases, an entire gutter replacement won't be necessary. When Presidio Roofing's professionals visit you to provide a quote, we won't recommend replacements that aren't essential, aren't more cost effective than repairs, or don't represent an improvement to your current system. However, it is vital for the integrity of your property that your gutters are in good working order. If a full gutter installation isn't needed but we do see some issues, we may recommend repairs.
There are a couple of common gutter issues that are repairable. If you have leaks, it may be that the gutters have become disconnected from each other or from the downspout. This is a relatively simple matter that requires realignment and connection. However, if there are cracks causing leaks in your gutters, it is usually wise to replace that component completely, rather than attempt a stop-gap repair.
Another repairable problem that can arise is gutter sagging. This usually occurs when your gutters become too clogged with debris, causing water and other items to place excess weight on your gutters. The fix for this usually involves tightening or replacing the hardware holding the gutter to your roof. However, as this may also require ensuring the pitch of the gutter is correct, it is wise to seek professional guidance here.
Prevention is always better than the cure, though. Whether you're having a full gutter installation or a repair, it's important to follow this up with a commitment to perform regular routine maintenance. You should clean and inspect your gutters at least twice a year. However, if you've experienced heavy storms, it's worth doing additional checks the morning after any weather event to remove any debris that has built up in the gutters and around the downspout. Most blockages can be cleared either by hand, being sure to wear gloves, or by using a high-pressure water hose. Take the time to check for holes or rusting areas, as this can mean you need gutter replacements.
Whether you require a full gutter installation for your San Antonio home or are unsure of the best course of action for addressing damage, Presidio Roofing experts are here to help. We are dedicated to ensuring your roof and gutters function as an effective unit for the long-term. Call us for a free gutter installation or repair estimate at (210) 899-5600!