DaVinci Roofscapes Contractor in San Antonio, TX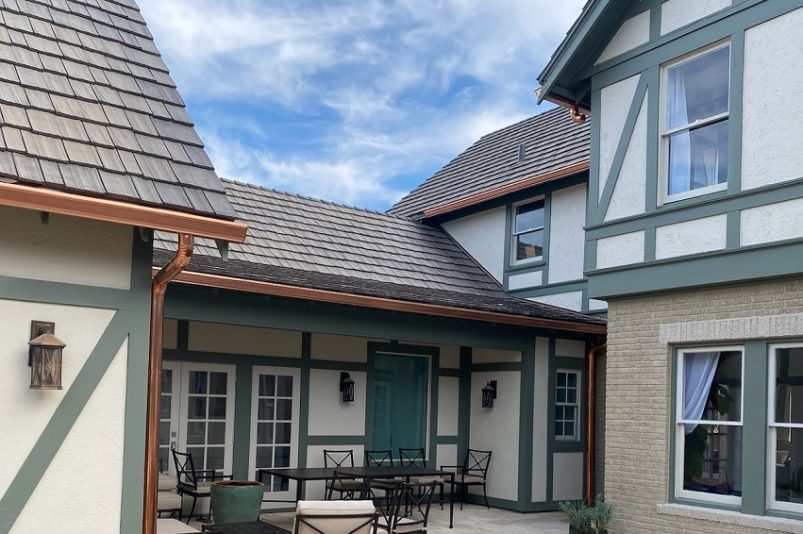 DaVinci Roofscapes products are a unique option for home and business owners looking to upgrade their roof's appearance and value. DaVinci products are composite roofing product meant to look like shake, slate, and tile roofing but offering many benefits that those original products do not provide. As the best DaVinci Roofscapes contractor in San Antonio we have the experience and technical proficiency to provide the best options for composite roofing systems in the city.
What Is a Composite Roof?
A Composite roof like DaVinci is a type of roofing product that is made up of a combination of different materials, such as fiberglass, asphalt, and mineral granules. These materials are combined and molded together to create a durable and long-lasting roofing product that is designed to withstand harsh weather conditions and provide excellent protection for the home.
Composite roofs provide advantages over traditional roofing products such as:
Ease of Installation
Composite products are lightweight compared to tile and slate, and thus can be transported and installed much quicker and with less waste. On average a composite roofing tile will weight 200-300 pounds per square which is about the same as an asphalt shingle roof and up to 3-4x less than concrete tile or slate. They also provide and easier fastening system and thus DaVinci Roofscapes installation in San Antonio is much safer and easier than many other roofing options.
Hail Resistance
Most composite products are Class 4 designated products that can easily hold up to 2" hail. In comparison to a traditional slate tile, which would fracture with 2" hail, they can provide a less expensive and longer lasting option for homeowners.
Wind Resistance
DaVinci Roofscapes products will generally come with wind warranties providing coverage up to 130mph. Aside from a Tornado, it is extremely rare to see this velocity of wind in San Antonio, thus if you install a DaVinci roof in San Antonio you are likely never going to have issues with wind damage.
Cost
While a DaVinci roof in San Antonio will cost more than asphalt shingle roof it will almost always cost less than a tile or slate roof. DaVinci roofing products provide the look and quality of tile and slate roofs while providing a more cost-conscious option for the average property owner. If you are looking to see whether DaVinci Is a viable price for your budget, a trained Presidio Roofing project manager can provide a free consultation and estimate to go over your options. We also offer financing options to help home and business owners bridge any funding gap to get the roof they really want or need.
Sustainability
Composite roofing products like DaVinci are generally very eco-friendly. They can be recycled and use a lot of already recycled materials in their production. Likewise, they provide good ventilation and solar reflectiveness to help reduce your energy costs.
Warranty
Durability is a vital trait in roofing products. If the tiles or shingles on your roof don't hold up then what's the purpose? DaVinci Roofscapes products are known for being lightweight and convenient to install, but they're also highly durable. So, the company has a reputation for pioneering durability and their lifetime warranty is one of the best in the industry.
Defending Your Home
is Our Mission
Best DaVinci Roofscapes Contractor in San Antonio, TX
If you are looking for the best DaVinci Roofscapes Installer in San Antonio the look no further than Presidio Roofing. Let us show you firsthand why so many home and business owners across the city have trusted us to give them the top DaVinci Roofscapes installation in San Antonio.