Silicone Roofing Company in San Antonio, TX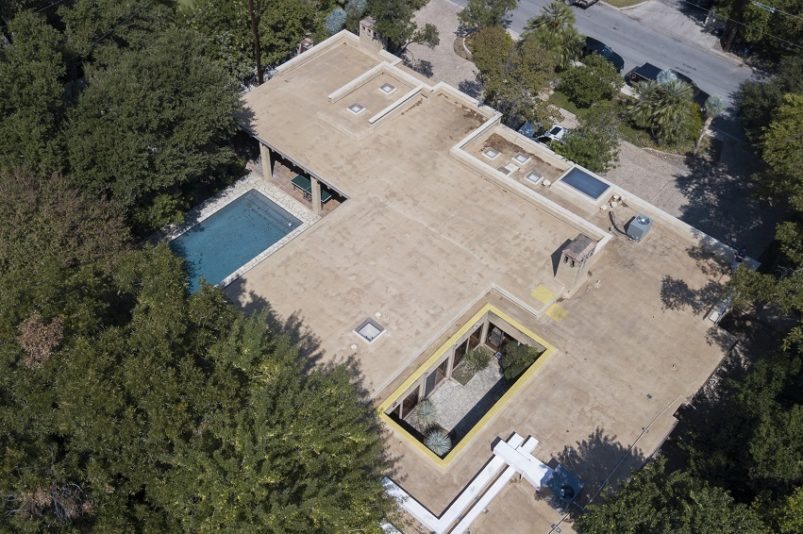 Liquid applied coatings have become extremely common in the roofing industry over the last decade. Liquid Applied Coatings is a class of roofing product that comes in liquid form and when applied to a roof or roof substrate hardens to form a single, seamless, waterproof roofing system. These coating products have allowed for a cost-effective solution to many flat roofing problems that previously required very expensive fixes or replacements. As the best roof coating company in San Antonio we want to educate and provide you with all the information necessary to decide if a roof coating is right for your commercial or residential flat roofing system.
Types of Roof Coatings
When you are considering a commercial roof coating in San Antonio the first step is to figure out what product is best for your building. Most major manufacturers such as GAF, Firestone, Mulehide, GACO, Henry offer product lines for each different chemical composition and the three major types are:
1.Acrylic Roof Coatings in San Antonio
Acrylic roof coatings are a popular choice for liquid applied roof coatings due to their versatility and ease of use. They are typically water-based and come in a range of colors, making them an excellent choice for use on flat roofs and low-slope roofs. Acrylic roof coatings such as by GACO are reflective and energy efficient. These roof coatings are best suited for mild to moderate climates and can be used on a range of substrates, including on top of closed-cell foam roofing systems. We have installed many foam + acrylic roof coating systems across San Antonio.
2.Silicone Roof Coating in San Antonio
Silicone roof coatings are a more durable option than acrylic roof coatings and are suitable for use in a wide range of climates. They are highly resistant to weathering, UV radiation, and chemical exposure, making them an excellent choice for flat roofs in San Antonio that are exposed to harsh environmental conditions. A top Silicone Roof Coating Company in San Antonio can offer this product on buildings such as metal panel industrial buildings where it can help remove leaks at seams that are very hard to fix.
3.Polyurethane Roof Coatings in San Antonio
Polyurethane roof coatings are a more flexible option than other types of liquid applied roof coatings, making them an excellent choice for roofs that are subject to regular expansion and contraction. They are typically solvent-based and are highly resistant to weathering, UV radiation, and chemical exposure. Polyurethane roof coatings are also highly reflective and can help to reduce energy costs by reflecting sunlight away from the building. These coatings can be used on a range of substrates, including metal, concrete, and asphalt by a local roof coating company.
When To Consider A Roof Coating
There are multiple scenarios where a roof coating would be your best option. As the best silicone roofing company in San Antonio, we offer roof coating for many types of flat roofs and scenarios. Some scenarios where a roof coating would be a wise decision include:
Your flat roof is leaking but you don't want to fully replace it. Whether you want to reduce your cost or simply don't want to deal with a large flat roof replacement, a roof coating is a viable option for a leaking commercial roof. Whether your flat roof is metal, foam, modified bitumen, or TPO, there is a roof coating option that will allow you to fully cover and waterproof the whole roof without removing the existing roof.
You want to use a Foam roofing system. Foam systems such as a GACO roofing system are closed-cell foam roofs that are sprayed onto existing substrates or metal panels and built up to the desired insulation value. These roof types need to have a acrylic roof coating applied onto them to provide the waterproofing needed to protect your property.
You can't source where a leak is coming from your flat roof. It is not uncommon to have mystery leaks on flat roofs. When you opt to coat your entire roof, you are using a cost-effective option that will stop any hidden leaks from seams, flashings, pipes, or other areas of the roof.
Defending Your Home
is Our Mission
Cons of a Liquid Applied Roof Coating
Liquid applied roof coatings require regular maintenance to maintain their warranties
Silicone Roof Coatings in San Antonio must be applied under certain dry and warm weather conditions thus limiting what time of year they can be applied
Your roof coating company needs to be highly trained and certified, and possess the needed machinery and equipment, to properly install a warrantied system.
You cannot install coating systems with any potential wind, even light breezes will potentially blow the sprayed coating onto nearby structures or people.
There are many benefits to roof coatings in San Antonio and they fill a void in the market that allows property owners to save a lot of money over costly full roof replacements. If you are looking for the #1 roof coating company in San Antonio look no further than Presidio Roofing. We are your roof coating experts!