PVC Roofing Company in San Antonio, TX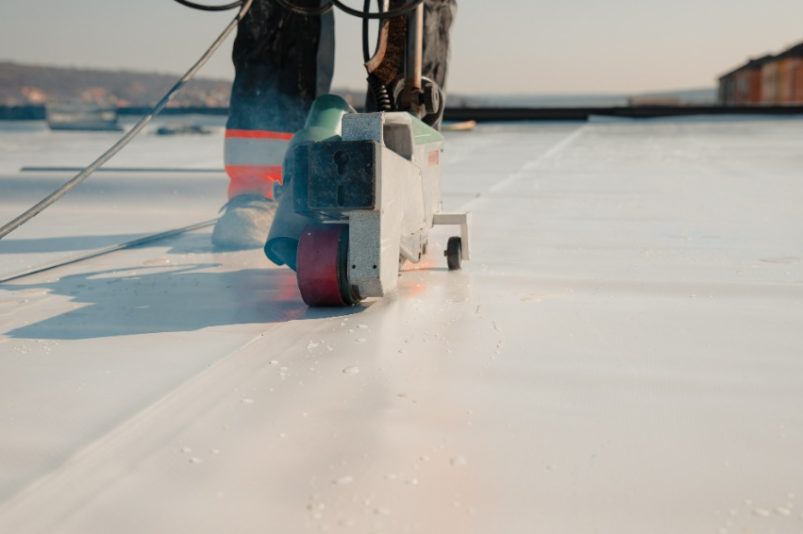 A PVC, or Polyvinyl Chloride, roofing system is one of the best options for flat roof replacements in San Antonio. PVC is one of the most common single ply roofing membranes on the market and has many distinct advantages over TPO and EPDM membranes. As the best PVC roofing company in San Antonio, we aim to provide every client with all the information necessary to decide if a PVC membrane is right for their project.
At Presidio Roofing we offer many options for PVC roofing including:
PVC Roof Leak Inspections
New PVC roof installations
PVC Roof Repairs
PVC Roof Replacements
PVC Roof Layovers
PVC Roof Storm Damage Inspections
PVC Roof Estimates
PVC NDL Warranties
We offer our PVC roofing services using brands such as Mulehide, Carlisle, GAF, Versaco, and Firestone.
PVC Roofing Benefits
In terms of Single Ply Roofing products, PVC is not as popular as TPO, mainly due to its higher price point. A PVC roof replacement will cost 10-25% more than a TPO membrane on the same roof. However, the higher price for a PVC roof is for a reason. Here are some of the advantages of a PVC Roof in San Antonio:
More Resistant to Chemicals
PVC roofs are more resistant to chemicals than TPO. PVC is a highly resistant material that can withstand exposure to a wide range of chemicals, including acids, oils, and greases. TPO, on the other hand, is more susceptible to chemical damage and may deteriorate more quickly in environments with high levels of chemical exposure. Therefore, on roofs above restaurants and certain manufacturing facilities, where these chemicals and greases do get onto the roof, a PVC membrane is the only viable option. It is safe to say that the roof above Carnitas Lonja or Buccees is going to be a PVC roof.
Longer Lifespan
PVC roofing membranes have a longer lifespan. PVC membranes have been in use for 25 years longer than TPO membranes, and in that time, they have proven to be extremely durable and long-lasting. TPO only became popular in the mid-90s so long-term data doesn't exist for these roofs yet in relation to their lifespan, whereas there are PVC roofs on buildings now that have been there for 40+ years. Because of this PVC roofers in San Antonio have also had 25 years more time to master the installation of these roofs. Both products have great NDL warranty options but because PVC has been used so much longer it is a safer long-term bet than TPO.
More Resistant to UV Radiation
PVC roofing membranes have superior resistance to UV radiation. They have a higher concentration of UV stabilizers than TPO membranes, which means they are better able to withstand the damaging effects of the sun's rays. In contrast, TPO membranes can become brittle and crack over time due to prolonged exposure to UV radiation.
Easier to Weld
Another advantage of PVC roofing membranes is that they are easier to weld than TPO membranes and thus have less risk of installation error. PVC membranes can be welded using a variety of techniques, including hot-air welding, solvent welding, and induction welding. TPO membranes, on the other hand, can only be welded using hot-air welding, which can be more difficult and time-consuming. This is like how some shingles have larger "nail zones" where nails can be driven, thus reducing the risk of installer error causing long term issues. While PVC may be easier to install it still requires a PVC Roofing Contractor in San Antonio, like us, that has the highest installation standards. GAF gives a great idea of how PVC roofs are adhered.
Defending Your Home
is Our Mission
Cons of a PVC Roof
Cost
PVC roofs are more expensive than similar TPO and EPDM roofing options. In many cases a TPO roof and a PVC roof can be interchangeably used for a specific building, and thus a TPO roof is the best financial decision, however on some buildings a TPO roof will not work and you will need to pay the extra cost for a PVC roof.
Not A Green Product
PVC roofs are inherently not great for the environment. They are hard to recycle and when burned at landfills they release harmful toxins into the atmosphere called dioxins which can cause serious issues to humans. PVC membranes also contain phthalates and similar compounds that give them their pliability but are harsh chemicals that are not good for human exposure. The reality is that you are not going to eat your PVC roof, so the risk of these chemicals is minimum, but it is important to know that PVC roofs are not particularly great for human exposure.
Energy Efficiency
PVC roofing is not as energy efficient as other types of roofing materials. PVC roofing absorbs heat and can contribute to the "heat island" effect in urban areas, leading to higher energy costs and a less comfortable working environment for building occupants.
PVC Roof Replacement in San Antonio
At Presidio Roofing we pride ourselves in our knowledge and expertise about all flat roof systems including PVC. Our trained project managers will help walk you through the pros and cons of a new PVC roof on your property and will provide free consultations and estimates to fit your needs. To schedule your free PVC roof consultation, fill out the form below.