F Wave Roofing Company in San Antonio, TX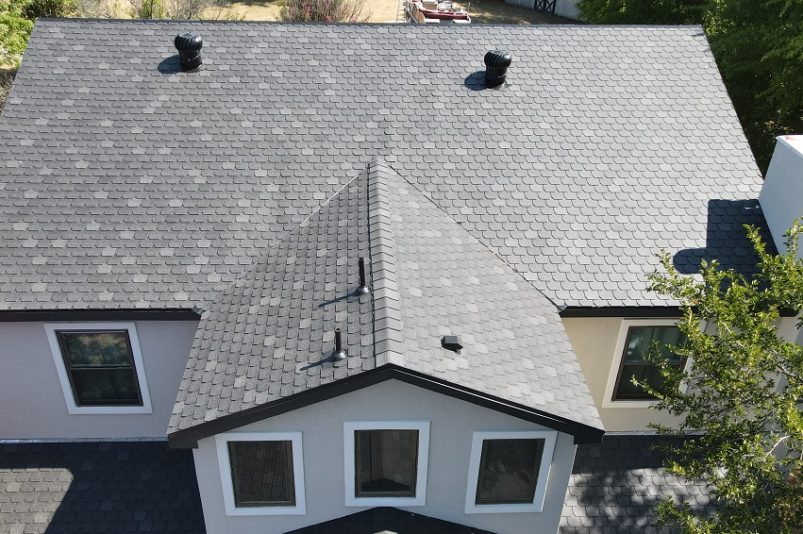 Texas is widely known as the hail damage capital of the United States. On any given year there are hundreds of thousands of hailstorm damage insurance claims made in Texas – more than double any other state. From San Antonio to Denton there Is nowhere along the I-35 Corridor that is safe from these effects of mother nature. There are even parts of San Antonio that have had 2 catastrophic hail events in just the last 6 years alone.
So, what can you do about it?
As the best F Wave roofing company in San Antonio we suggest upgrading your easily-damaged asphalt shingle roofs to F Wave Synthetic Shingles. F Wave roofing in San Antonio is still an extremely new product on the market. They have grown in popularity, but most homeowners are not yet aware of F Wave yet here in Texas and thus there are not many F Wave roofers in San Antonio. Presidio is the best San Antonio F Wave roofing company and a preferred vendor for F Wave shingle products.
What are F Wave Roofing Shingles?
F Wave Synthetic Shingles are synthetic rubber shingles that come in various patterns such as Shake, Slate, and shingles. These shingles are made of a rubber compound with no asphalt or granules like a standard shingle. They are installed in a very similar to manner as standard asphalt shingles and thus they allow for quick and easier installations that other non-asphalt products like Tile or Slate.
Benefits of F Wave Roofing Shingles
Advantages of F Wave Roofing Shingles include:
They are warranted for damage from hailstones up to 2" in diameter, for 5 years, both labor and materials. An unparalleled hail warranty in the roofing industry
They have a 130-mph wind warranty
They are aesthetically some of the best-looking roofing products on the market and will increase your home's value and curb appeal
They cost 50% less than traditional shake or slate roofs but have the same look and greater overall performance
True Class 4 Hail Rating will lower your insurance premiums by sometimes up to 30%
They are lightweight and can be installed on any roof that has asphalt shingles without the need for load bearing adjustments to the framing that might be necessary for other hail resistant products like Tile or Slate.
They can be repaired easily like shingles by just swapping damaged shingles in and out
Manufactured here in Texas
Their weather force warranty is good for 50 years, covering premature aging, fading, algae, and wind damage on the roof.
Defending Your Home
is Our Mission
Cost of F Wave Roofing Shingles
Like all roofing products the cost of each individual installation is affected by the work scope and the dimensions of that roof. Things like size of roof, steepness, height, number of slopes, etc are the biggest factors affecting the price. Thus, for a detailed estimate to install F Wave Roofing shingles on your roof, there is no better option that to Call Presidio Roofing for a free quote. However, you can start with a frame of reference!
Most homeowners consider upgrading their architectural 30-year asphalt shingles to F Wave. The cost of an architectural roof replacement is generally going to be between $4 and $7 a square foot. Upgrading to an F Wave roofing shingle will generally be around double that cost but when considering this additional cost there are important money saving factors as well.
F Wave has the best cost to benefit ratio for products that protect from hail damage. Other highly hail resilient products like Tile, Decra, or Tilcor will cost about 50% to 100% more than what an F wave roof would cost. Likewise, your insurance carrier should discount your yearly premium by at minimum 25% for adding a F Wave roof to your home and for the average Texas home this is a savings of more than $700 a year.
You also will not have to go through the hassle of replacing your roof every time a storm with hail above 1" hits your home. This will save you on your deductible, which in Texas is legally required to be paid on any homeowners insurance claim, and averages over $4000 per claim. With the greater frequency of hail storms many homeowners have found themselves paying that deductible 2 to 3 times in a 10 to 15 year period as they continue to replace their basic asphalt shingle roofs.
F Wave Roofing in San Antonio, TX
If you are interested in learning more about the viability of installing F Wave roofing products on your home then call Presidio Roofing. Our trained project managers will help educate you on the product and run a cost benefit analysis with you to see if it is the right financial decision for you and your family. We are San Antonio's F Wave Roofing Experts and want to help as many homeowner's as possible to see the advantage of this product.