Flat Roofing Company in San Antonio, TX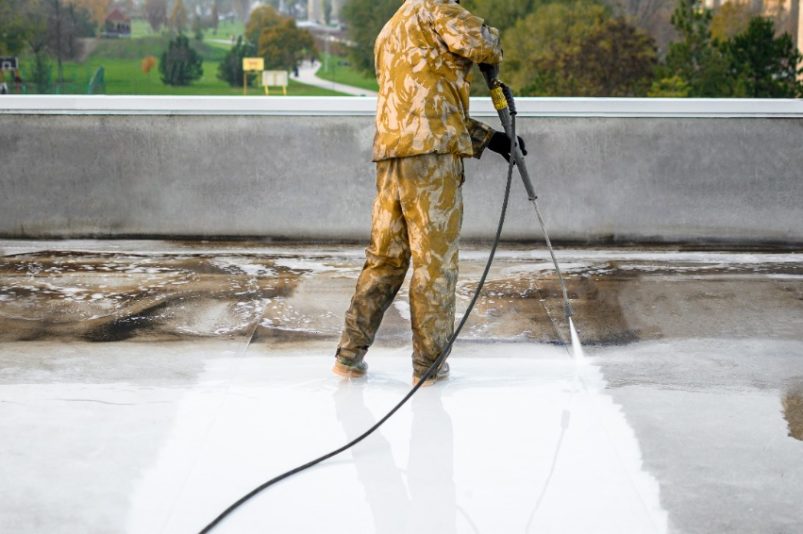 Presidio Roofing is the top flat roofing company in the San Antonio market. Over the years we have a built a strong portfolio of high-profile flat roof projects across the city and surrounding areas. Some of the flat roofing services we provide include:
Flat roofing repairs
Flat roofing replacements
Flat Roof Leak Detection
New Construction Flat Roofing Installation
TPO and PVC Layovers
Emergency Response loose lay coverings
Flat Roof Hail Damage Inspections
Flat Roof Wind Damage Inspections
Flat Roof Insurance Claims
Flat Roof Drone Inspections
Flat Roof Thermal Camera Inspections
Flat Roof Coatings
20 Year NDL Warranty TPO and PVC Installations with Multiple Manufacturers
What is a Flat Roof?
From a construction standpoint, a building will have either a sloped or flat roof, based on the needs of that structure. In general, most residential homes are sloped roofs with either hip or gable roof profiles, and most commercial buildings have flat roofs. However, not every flat-roofed building is the same, and thus the term "flat roof" is a broad term to define a specific construction method, as opposed to a specific roofing product. Because there are so many different types of buildings that have flat roofs, many products have developed over the years to suit the needs of them all. Even though an H-E-B in Castle Hills and a training building at Lackland AFB both might have flat roofs, the buildings themselves serve very different purposes and have different needs. Thus when you are choosing a flat roofing company in San Antonio it is important to choose a company who knows what kind of roof is right for your building.
Flat Roofing Products
The different products for flat roofing systems can be broken into a few sub-categories that help define them. The primary flat roofing categories are:
Single-Ply
Single-Ply Roofing Systems are the most common type of flat roofing materials used in construction today. They are defined as large sheets of water-proof materials that do not require tar or torches for installation, have less seams that could leak than classic rolled roofing, and come with specific components and installation methods for water-proofing flat buildings to the highest degree of efficiency. Your flat roof installer in San Antonio can mechanically fasten the membrane with screws of fully adhere it with an adhesive. Most single-ply products come with manufacturer specific NDL (no dollar limit) warranties that can be registered when the products are installed correctly by a certified installer. The most common single-ply products are TPO, PVC, and EPDM and some of the most common brands are GAF, Carlisle, Firestone, and Mulehide. In general, we feel that single-ply TPO and PVC membranes are the best flat roofing material option on the market today.
Built Up Roofing (B.U.R) Systems
Built Up Roofing Systems are comprised of multiple layers of materials that when used together provide a strong unified roof that holds up well against water and severe weather. A B.U.R. starts with a base sheet, then multiple layers of ply sheets, then a cap sheet. Sometimes these systems will be called 3-ply or 4-ply systems and oftentimes when they do leak you will see additional cap sheets added to "build up" the roof even more. B.U.R. systems are the oldest flat roofing system still on the market and commonly used. The classic idea of a roofer with a kettle of tar comes from installing these roofs. GAF is an industry leader in roofing products and provides one of the best overall BUR systems on the market.
Modified Bitumen
Modified Bitumen refers to a rubberized asphalt product that has been around for 50+ years in the roofing industry. "Mod Bit" roofs come in large rolls, usually 3 feet wide, that are rolled down and adhered in one of a few different ways. They can be hot-mopped, torched down, cold-applied, or self-adhered and provide the widest range of options for installation on all different flat roofs. Modified Bitumen roofs will have a base sheet and a cap sheet and provide a cost-effective option for most building types. Both rolled roofing and B.U.R. systems can be installed utilizing a method called gravel ballasting, where a layer of gravel/rocks is laid across the top of the final membrane. This gravel weighs down the products and reduces the need to penetrate the decking with anchor screws as much.
Liquid Applied
Liquid Applied roofs are a resin that is applied using rollers or sprayers onto various types of reinforced material such as fiberglass matting, which is installed onto various roofing substrates such as metal, modified bitumen, or even certain single ply membranes. The most common coatings are Silicone and Polyurethane and have become increasingly popular in the roofing world, particularly as a cost-effective way to seal entire roofs that are leaking, without removing those whole roofs. Most single-ply roofing manufacturers also make coating products and as these products and methods of installation have continued to develop, they have quickly become one of the most common roofing products in flat roofing.
Foam
Foam roofs are a unique option that can be of great benefit to commercial and industrial flat buildings. Foam is pumped out through large barrels using a machine rig and sprayed onto existing roof membranes and substrates such as metal. A spray foam roof will then be coated with a silicone spray coating such as Gaco-Western or GAF. Spray Foam roofs provide great insulation and can be used to add insulation to an existing roof. Spray foam roofing is common on both commercial and residential flat roofs in San Antonio and across Texas.
Defending Your Home
is Our Mission
What Flat Roofing Product is Best For You?
When you need a flat roof replacement in San Antonio one of the first questions is whether it makes sense to replace the current roof with a different product. For example, it is incredibly common for older buildings with B.U.R. or Modified Bitumen roofs to go back with a TPO or PVC roof. When it is feasible for the situation, we almost always recommend installing a TPO or PVC single ply system. These products have become the most common roofing products for new construction over the last two decades because they provide the most seamless installation, the best waterproofing capabilities, and the best NDL warranties on the market. Water does not have the ability to penetrate or degrade a TPO or PVC roof unless it is incorrectly installed, thus in most cases they are the obvious choice. But just because we recommend a certain product doesn't take away from the fact that your roof may be best suited with a different option. That is why our trained project managers help make us the best flat roofing company in San Antonio. They will analyze and inspect your roof, document and share their findings with you, and present only the best option for your situation. Whether you are in need of a single-ply, a B.U.R, a foam, liquid applied, or modified flat roofing system, we are the best flat roofing company in San Antonio to get the job done right.