Shingle Roofing Company in San Antonio, TX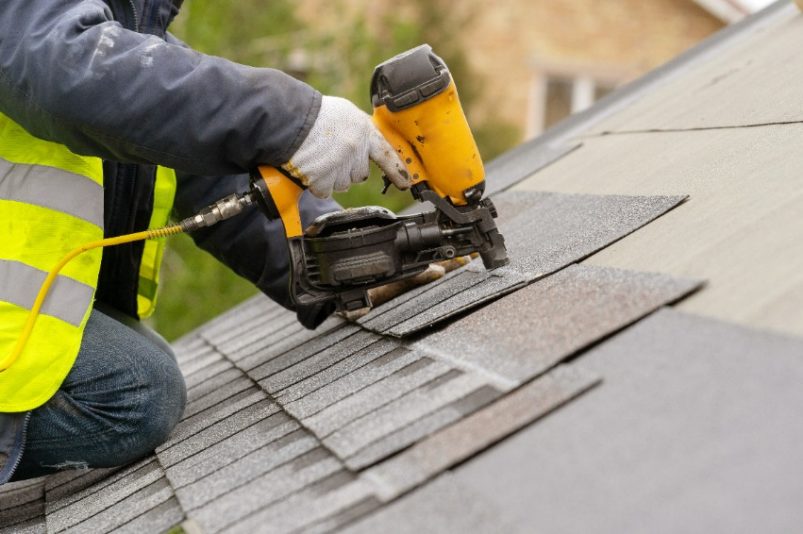 Texas is one of the only states where homeowners expect to replace their shingle roofs multiple times in their lifetime. Even with most top shingle brands providing "lifetime warranties" the average homeowner in Texas will replace their roof roughly once every 10 years. This is primarily due to the frequency of damaging wind and hailstorms; however, this is ultimately just an average and every average has extremes on both sides. Thus, there are plenty of folks who have not replaced their shingle roof in 30+ years and plenty who have replaced it 2-3 times in the last decade alone.
There are 3 primary reasons why you would replace your shingle roof in San Antonio:
It is damaged beyond repair
It is too old to function properly anymore
You want a newer or better roof on your home
Of these 3 reasons you ultimately have 2 ways that a roof is paid for – an insurance claim or out-of-pocket. At Presidio Roofing we are positioned to help both insurance-claim and retail clients get exactly what they need in a roof replacement.
Replacing your Damaged Roof
The most common reason for shingle roof replacements in San Antonio is damage from severe weather. However, even if you are hit be hail the size of baseballs, it can be difficult to see the damage on your roof from the ground. That is why hiring a trustworthy roofing company to provide a free storm damage inspection is extremely important even after smaller hail or windstorms. It is not wise to simple file an insurance claim after every single severe storm thus having a roofer look before filing is always the best option. At Presidio Roofing we will provide a free inspection and photo report, as well as give you honest advice on whether any damage to your roof is bad enough to warranty an insurance claim or a full replacement.
Shingle Roof Hail Damage
Hail damage to a shingle roof generally looks like a black circle with a spot in the middle. When a hailstone hits your roof with enough force it will indent the matting of the shingle. In doing so it will strip the granules away on the edges of the impact circle and impact the granules in the middle. Thus, spotting hail damage is not terribly difficult, but it needs to be done from on the roof itself and most homeowners cannot climb their roof safely.
There are some signs that you can see from the ground that would indicate your shingle roof is damaged by hail. Some of these include dings in your gutters, tears in your window screens, and leaves are stripped from trees in your yard. If you see any of these signs it is important you have your roof looked at by a professional.
When hail breaks the matting on your roof in this fashion it is physically damaged the roof. Any manufacturer and labor warranties are no longer applicable, and your roof will start to degrade at a faster rate. The granules that protect the roof from the sun are stripped away and thus the asphalt and fiberglass matting will incur UV damage and eventually your roof will develop leaks all over.
When your insurance company inspects your shingle roof they are looking to see if a certain amount of shingles per 100 square feet are damaged, and when it reaches that amount, they deem the roof a total loss and pay for its replacement. When a Presidio Roofing project manager inspects your roof, they will be looking to see if the hail damage to your roof is enough to qualify for a full replacement and will provide you with the information needed to make an informed decision on your own whether to file a claim.
Shingle Roof Wind Damage
Wind is also a common culprit in damaging shingle roofs in San Antonio. Most top-level architectural shingles have wind warranties above 130 mph but there are also many 3-tab shingle roofs that will come off with winds as low as 60 mph. When you are getting a new shingle roof, it very important you go over all options for the manufacturer's wind warranty with your project manager.
Wind damage is sometimes easier to see from the ground then hail damage but not always. For example, high level winds will often snap a shingle, break its bond and matting, and lay it back down in the exact same place. Wind damage like this is not visible from the ground but almost every roof in Texas has some shingles like this that look fine from the ground. Just like hail damage it is important to have a roofing company in San Antonio inspect your roof for potential wind damage. It is more common for whole roofs to be replaced due to hail damage but in general it is wind damage that will cause the most immediate leaking in your home.
Shingle Roof Insurance Claim
When it is time to file an insurance claim for your shingle roof the process is fairly simple, but each insurance carrier has their own exact procedures. Once you have filed the claim it is always a good idea to have your Presidio Roofing project manager meet the insurance adjuster for the initial adjustment. This is a mutually beneficial relationship where we can point out and help the insurance adjuster find any storm damages on the property while also assisting them in their work.
It is important to know that In Texas a roofing company cannot "represent" a homeowner on an insurance claim. This is the job of a Public Adjuster. However, we can point out storm damages and provide our estimate and notes on what is needed to replace the roof per code and manufacturer specifications. The insurance companies always want to see line-item estimates for the work and we utilize the same pricing software programs they do in order to make that process as easy and transparent as possible for all parties involved.
While most insurance companies treat their policy holders well, it is becoming more and more common for insurance carrier to lowball homeowners on pricing for their roof replacements. Some of this comes down to the specific coverages in the policy but for the most part there are common items that need to be listed out in any insurance estimate for a roof replacement. These items include:
Tear off all roofing materials to the decking
Replace felt paper
Replace valley lining and all flashings
Replace all vents and pipe boots
Replace or install new drip edge flashing
Install starter strip
Replace the shingles
Replace the ridge cap shingles
All line items for steep or high roofs
Most shingle roof replacement estimates will have more than the above line items in them since every home is different, but for starters when looking at your insurance estimate, all these line items should be in the estimate.
It is important to get the pricing right with the insurance and we will work with them, within our legal limits, to make sure your shingle roof replacement is priced correctly. At the end of the day, your only out of pocket expense on an insurance claim roof replacement, should be your deductible. If a roofing company tries to charge more than that and they are not providing additional upgrades, you should get another estimate.
At Presidio Roofing we have handled tens of thousands of insurance-based shingle roof replacements and we can bring our knowledge and expertise to your claim to make the process as easy and headache free as possible for you. From start to finish we can take most of the burden off your shoulders and allow you to go on living your life.
Defending Your Home
is Our Mission
Retail Shingle Roof Replacement
Whether your roof has simply reached the end of its life, or you have decided you want a roofing shingle with more value or curb appeal, Presidio Roofing provides the best options for retail shingle roof replacements in San Antonio.
Signs your shingle roof needs replacement
Some of the key signs your shingle roof needs to be replaced include:
Shingles are curling up at corners
Color is gone or fading away
There are leaks in multiple non-connected areas
Shingles are falling off
Gutters are full of granules that have shed off the roof over the years
You can see glimmering white strands in your shingles (exposed fiberglass)
Your roof has mold, algae, or mildew growing on it
Your roof is stained
These are some of the main reasons you might need a shingle roof replacement. While a shingle roof replacement is a straightforward process it is still our desire to educate and inform every potential client on the totality of their project. We do not want to hide details or simplify things to the point that a client doesn't understand the products or work scope involved in their new shingle roof. Our roof replacement estimates will detail out the full work scope, all products involved no matter how small, all warranties on the work and materials, and any other job specific information.
Types of Shingle Roofs
Most homeowners in San Antonio either have a 3-tab shingle roof or an architectural shingle roof. Within these two categories there are myriad different products from brands like Owens Corning, GAF, Atlas, and Certainteed. As an Owen Corning Platinum Preferred Contractor, one of only a dozen in San Antonio, we primarily use Owens Corning on our shingle roof replacements because we can provide warranties that 99% of other roofing companies cannot offer. However, we can offer other brands depending on the client's needs.
When looking at shingle roofs there are 3 primary categories:
1. Strip Shingles (3-tabs)
These shingles are the lowest grade of roofing shingle. They provide the most economical option for price conscious clients but also have the lowest warranty offerings and last the least amount of time. Nowadays you only really see strip shingles on older homes and on brand new builder communities. Usually when a hail storm comes through a new home community the majority of the homes will upgrade to a dimensional shingle. These roofs will generally cost between $3.50 and $5.50 per square foot.
2. Dimensional or "Architectural" Shingles
These are the most common type of roofing shingles. They are comprised of multiple layers of asphalt that are used to give a thicker, more dimensional look to the roof. Most dimensional shingles are two layers but there are some with 3 that are meant to look like shake or slate products. Owens Corning Tru Duration Shingle is one of the top dimensional shingles and we install this product more than anything else at Presidio Roofing. These roofs will cost between $4 and $7 per square foot.
3. Designer Shingles
Designer shingles like the Owens Corning Berskshire or Woodcrest are the top level of shingle roofing products. They are thicker and require more specific installation methods as they are meant to truly replicate old world shake or slate roofs. You will see designer shingles like this most commonly in areas like Alamo Heights or Terrel Hills where property values are some of the highest in the city. However, almost every home is eligible for a designer shingle upgrade and we love offering these products. They are more resistant to wind and hail then other shingles and will last longer overall. These roofs cost between $5 and $10 per square foot.
Withing the dimensional and designer shingle categories there are options for shingles that are considered Impact Resistant to hail. This is a specific classification that will usually get you a discount on your homeowners insurance policy as well as help remove the headache of replacing your roof due to hail damage often.
The Cost of a Shingle Roof Replacement
The price ranges for the various roofing shingle types listed above are a good starting point but their ranges are large. Some of the factors that change a shingle roofs price are:
Are you replacing everything? Some roofing companies do not tear off all the old materials like felt and flashings. This can lower the price but also the quality
What type of ridge cap are you using? Roofs can have 3-tab ridge cap, dimensional, double-layered, even impact resistant ridge caps.
Is your roof steep or tall? The steeper and the taller the roof the more it will cost. For both safety and speed of work these are big factors
Is your roof multi-faceted? Some shingle roofs have just 2 slopes and some have 50+ slopes. More slopes equals more waste and more material needed, thus increasing the cost.
Ventilation. There are many different ventilation types from plastic box vents to solar fans and the prices vary widely.
Using the price ranges above will help start you in considering which type of roofing shingle is best for you but the biggest step is getting a free estimate from Presidio Roofing.
Ask your Roofing Company
Before you replace your shingle roof here is list of items to go over with every roofing company you talk to about the job. Replacing a roof is a big project and is not cheap so it is ok to be diligent with your chosen contractor and make sure you are getting the best service possible.
Have them provide proof of insurance and worker's comp
Verify they are an accredited business with BBB and have a solid record of client reviews
Get a list of referrals from previous clients so you can call and verify their work
Get a full-detailed estimate with the work and material scope. The more details the better. If you get multiple estimates, you will quickly see who is being the most transparent.
Go over warranty options. A roofing company is only as good as it's warranty and a material warranty is not the same as a labor warranty. Looks for companies like Presidio Roofing that can provide both material and labor warranties backed by corporations like Owens Corning
Go over financing options. Presidio Roofing offers financing and a company that cannot offer financing is a red flag.
Defending Your Home
is Our Mission
Shingle Roof Replacement in San Antonio
Whether you have a shingle roof insurance claim or just need a quote to replace your roof out-of-pocket, Presidio Roofing is your best choice in San Antonio. Feel free to give us a call or fill out the form below and a project manager will reach out to schedule your free consultation.