Roof Repair Company in San Antonio, TX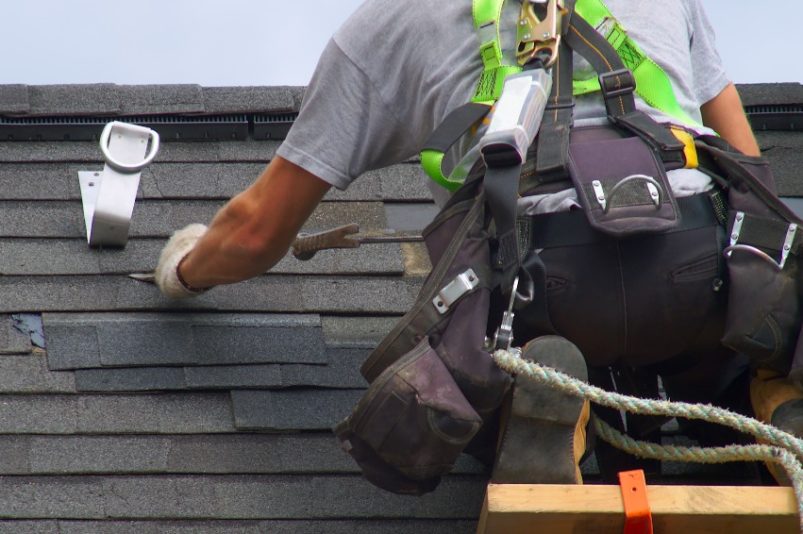 A leaking roof is one of the most frustrating things to deal with when it comes to your home or commercial property. Roofs are large, interconnected, and often difficult to access for the average property owner. At Presidio Roofing we know that when a client needs their roof repaired it is of utmost importance and should be treated as such. As the best roofing repair company in San Antonio we have the knowledge and capabilities to quickly address your roof repair needs, no matter the roofing product, in the fastest manner possible.
Not addressing a roof leak quickly can lead to:
Excess interior damages
Deterioration of the roofing product
Compromised insulation
Mold growth
Reasons for Roof Leaks
A leaking roof in San Antonio can be caused by many factors. The most common reasons for roof leaks are:
Wind Damage
Strong winds can rip up shingles, tiles, metal, and other roofing products and expose the underlayment or decking to rain. Most immediately occurring leaks are due to wind damages.
Hail Damage
Extremely large hail, as we have seen in multiple times in San Antonio over the last few years, can cause leaks. Hail leaks however tend to be delayed after a storm. Most hail damage will contribute to early aging of a roofing product and lead to leaks years down the road.
Failure of the Roofing Product
Leaks often occur when roofing products have reached the end of their lives. Asphalt roofing products will eventually age out due to sun and rain exposure and when the granules are all gone, the matting will fracture, and holes will develop.
Incorrectly Installed Products
Roofs are installed wrong every day in San Antonio. Leaks due to poor installation tend to present themselves quickly after a new roof is installed. The most common installation issues come from poorly installed chimney and wall flashings.
Deterioration of Roof Vents, Flashings & Caulking Lines
Roof components often have shorter life spans than the primary roofing product. For example, a lifetime designer shingle will outlive a plastic box vent. Therefore, having regular roof check-ups is important.
Roof Leak Inspection in San Antonio
The first step in addressing a roof leak is to have a trained project manager or technician from Presidio Roofing inspect your roof. They will be able to find the source of the leak by climbing the roof, utilizing thermal cameras or moisture gauges, inspecting your attic, and other methods.
Based on the complexity of a proposed repair method your Presidio Roofing technician will either be able to perform repairs on site or will send in a more detailed work scope from the office. We know the urgency involved in San Antonio roof repairs and we strive to give every client the fastest resolution possible.
Our technicians are trained and able to make roof repairs on every roofing product for both residential and commercial buildings. Our capabilities include:
Asphalt shingle roof repair
Tile roof repair
Metal roof repair
TPO roof repair
PVC roof repair
Decra roof repair
Tilcor roof repair
F Wave roof repair
Owens Corning roof repairs
Flat Roof repairs
Commercial Roof Repairs
Residential Roof Repairs
Apartment Roof Repairs
San Antonio Residential Roof Repair
There are sometimes cases where a roof that needs a repair can not be repaired. This is almost always due to the age of the roof or a roofing product that has been discontinued.
Every roofing product, from Asphalt shingles to Tile, changes and improves over time. One downside to this is that every once and awhile a product is discontinued. If you have a roof leak caused by wind or hail, and your roofing product is deemed to be discontinued, oftentimes the insurance company will owe you for a full roof replacement. Claims like this are extremely common but must be navigated correctly. At Presidio Roofing we can help you determine if your roof is discontinued and help provide the information you need to navigate a potential insurance claim.
Likewise, roofing products, especially asphalt shingles, can simply get too old. When you are repairing shingles on a roof you must manipulate the adjacent course of shingles in order to remove and insert a new shingle. If the roof is too old, it oftentimes will be very brittle, and you will not be able to repair it without breaking the attached shingles due to their age. This is also common for roofing repairs in San Antonio and depending on the situation can validate an insurance claim full replacement.
Defending Your Home
is Our Mission
Commercial Roof Repair San Antonio
Finding the source of a leak on a flat commercial roof can be challenging. Our technicians are trained to analyze each individual commercial flat roof and deduce where a leak could be originating. Commercial flat roofing repair can be as simple as replacing a vent or as complex as providing an entire new TPO layover roofing system. Whatever the complexity we are able to handle any commercial flat roof repair in San Antonio.
Roof Repair Cost in San Antonio
Every roof repair is different and has different material and labor needs. There is no way to estimate the cost of a roof repair without having a trained technician inspect the roof. At Presidio Roofing we aim to provide the most affordable roof repairs in San Antonio as well as the highest quality roof repairs. We offer the ability to pay by credit card with the technician on site, as well as electronic payment, check, or financing.
We are the top roofing repair company in San Antonio and if you think your roof might need to be repaired please fill out the form below and a technician will call you.