EPDM Roofing Company in San Antonio, TX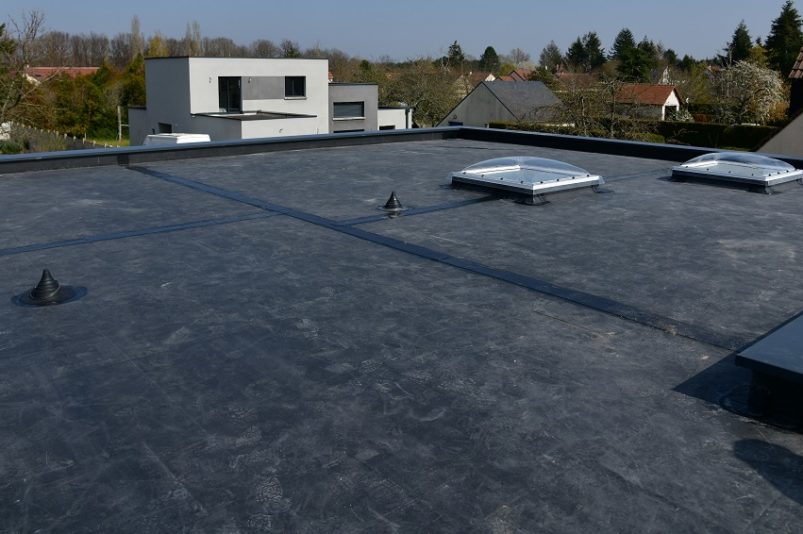 EPDM (ethyl propylene diene terpolymer) roofing single-ply membrane is the main competitor to TPO and PVC roofing membranes. EPDM is a synthetic rubber compound that is used across many industries, such as weather-stripping seals on car doors, to EPDM washers, to EPDM roofing sheets. It has been around the roofing industry since the mid 1900's and became very popular in roofing in the 60's and 70's oil prices increased, and thus asphaltic flat roofing products became more expensive. Though TPO takes over 50% of the overall single ply roofing market share there is still a large market for EPDM roofs, and we are the best EPDM roofer in San Antonio.
Advantages of an EPDM Roof
EPDM roofing membrane is still one of the most common flat roofing options in San Antonio for multiple reasons. Some of the advantages of an EPDM roof include:
Affordability
Pricing out any roofing system is highly individualized to that specific project but in general an EPDM roof will cost less than a TPO or PVC membrane for that same roof
Heating Costs
A white roof like TPO will generally save a property owner on cooling costs by reflecting the sun. However, in cold environments, it is often best to trap some of that thermal energy to help in reducing heating costs in a building and EPDM does that job well
Affordability
Pricing out any roofing system is highly individualized to that specific project but in general an EPDM roof will cost less than a TPO or PVC membrane for that same roof
Resilient
EPDM is a rubber product and thus can easily be bent and formed around pipes, walls, flashings, etc as needed for any job. It does not need to be air welded to manipulate like a TPO or PVC roof. When properly installed and with proper maintenance an EPDM roof can easily last for 50 years on any given roof. EPDM is also very resistant to corrosive substances.
Installation Ease
In general, installing an EPDM roof is easier than a TPO or PVC roof. The seams are taped or adhered, not welded, and the membrane is more pliable and easily manipulated. /p>
Variety of Options
EPDM roofing products come in many different options such as Carlisle Sure-Seal, Carlisle Sure-Tough, Carlisle Sure White, and Carlisle Fleeceback. Each of these products is beneficial for different roof types and installations. Your EPDM roofer in San Antonio can also offer a gravel ballasted option where the EPDM membrane is weighted down by gravel, increasing the wind and hail resistance of the membrane.
Defending Your Home
is Our Mission
Best EPDM Roofing Company in San Antonio, Texas
Most of the brands that manufacture other flat roofing products also have EPDM membranes in their catalogs. Brands such as Mulehide, Carlisle, and Firestone are the most seen EDPM brands on the market in San Antonio. Presidio Roofing is a certified Mulehide EPDM installer in San Antonio and can offer their NDL and Standard Warranties on almost every job. Our trained project managers can walk you through the different types of installation and warranties available for your specific property.
When considering an EPDM roofer in San Antonio you should make sure they:
Can offer an NDL warranty with one of the main brands
Can show you experience on similar buildings as your own
Are fully insured, licensed, and registered with the BBB
Have good online reviews with google and other review sources
Can provide references
While EPDM roofing systems are standard in the roofing world, like any roofing product, it all comes down to correct installation. Minor mistakes or cut corners in installation of an EPDM roof in San Antonio can lead to problems that don't present themselves until much further down the road. Thus, when choosing a rubber roofing company in San Antonio it is of utmost important to do your diligence.
At Presidio Roofing we are the most trusted and experienced EDPM roofing contractor in San Antonio and we will prove this to you in person. If you are looking replace your EPDM roof look no further than Presidio Roofing and give us a call for a free consultation.