Metal Roofing Company in San Antonio, TX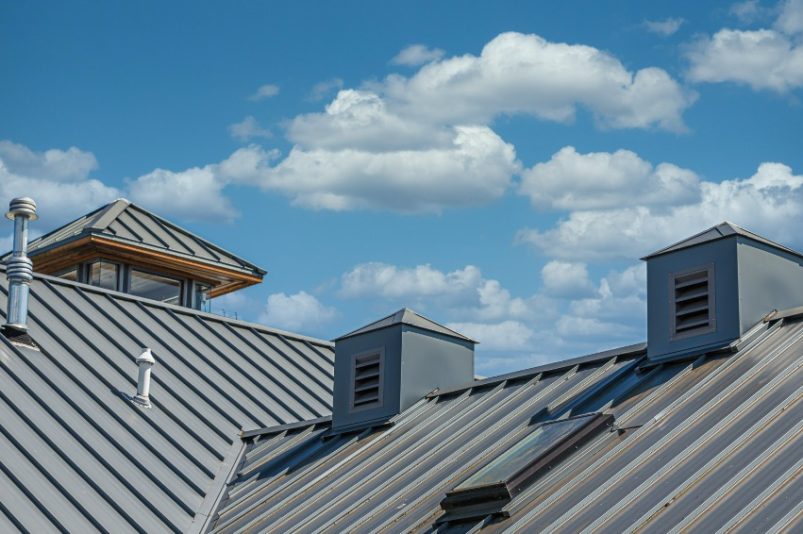 Metal roofing has quickly become one of the most desired roofing systems across Texas- especially in San Antonio and the surrounding hill country. From city homes to ranch houses, churches to businesses, more and more people have realized the benefits of having a solid metal roof on their property. At Presidio Roofing we are the most trusted metal roofing company in San Antonio with countless happy clients across the region.
Why Choose a Metal Roof?
They are durable and hold up better in severe weather like hail and wind more than other roofing systems
Require Less Maintenance than other roofing systems
Provide more energy efficiency due to their thermal emittance properties
Offer a wide range of colors and styles to create a beautiful look for your property
Metal roofs are an eco friendly and sustainable option as they can be recycled in full when replaced
Metal roofs can be made from many different types of metals and alloys including Aluminum, Copper, and Steel.
Metal Roofing Panel Systems
There are fundamentally two different types of metal roofing panel systems: exposed fastener and concealed fastener. You will see concealed fastener systems such as standing seam on homes and businesses whereas you will see exposed fastener systems more commonly on garages, barns, and industrial buildings or large complexes. We use Mcelroy and Berridge brand metal roofing panels the most often but there are many other products available including more custom looks like Bridger Steel.
Pros of a Concealed Fastener System:
They require less maintenance and are more durable due to the fasteners being covered
They look cleaner and higher end as well
They last longer and have better warranties
Cons of a Concealed Fastener System:
They are more expensive. The materials are thicker, and the labor is more precise and takes longer.
They are not as easy to repair. If a single panel sustains significant damage on a mechanically fastened system, you will likely need to replace all the adjoining panels as well.
They take longer to install as they are generally broken on site from the metal coils.
There is a unique cosmetic issue called "oil canning" that can occur when you have long sheets of metal roofing. It gives an appearance of waviness and can make perfectly good panels looks distorted. There are ways to solve this by using backer rods or other installation methods, but it will sometimes occur on even the most perfectly installed metal roofs.
Pros of an Exposed Fastener System:
They are easier to repair since replacing an individual panel is as simple as removing some screws
They are easy and quick to install
They are the cheapest metal roofing option available
Corrugated panels are very efficient at directing water off any roof
Cons of an Exposed Fastener System:
They don't look as polished and thus are not generally considered good options for properties that need aesthetic appeal
They will leak over time due to the rubber gaskets degrading or the screws rusting
They do not hold up to windstorms well compared to mechanically fastened systems
Corrugated panels can hold more debris like leaves and can accumulate snow and ice easier than flat panels
As you can see, the two main types of roofing panels systems have plenty of pros and cons for each, and they both have scenarios where they are clearly the best option. At Presidio Roofing when you need a metal roof replacement in San Antonio or across Texas our project managers will come walk you through which system makes the most sense for your property.
Defending Your Home
is Our Mission
Stone Coated Steel
If you are not interested in a panel system but do want the strength and durability of metal, another great option is stone coated steel. Stone coated steel is a unique product where natural stone granules, mined from specific quarries world-wide, are adhered to the top of base steel sheets that are formed to varying profiles. The steel base panels are a layered with zinc-aluminum to prevent rusting and are made to look like, tile, shake, and even shingles. The stone granules give color and variability in the looks of each panel and make this product so unique. The two main manufacturers of this product are Tilcor and Decra and we have extensive experience installing both of their systems on both residential and commercial roofs.
Pros of a Stone Coated Steel Roof:
Most stone coated products have warranties protecting against hail damage by stones up to 2.5" in diameter. These warranties are some of the most significant warranties for protection against hail damage in the whole roofing product industry.
The look of these roofs is very high end and appealing to most people
These roofs provide greater value for your property from a financial perspective
You can get significant homeowners insurance discounts for having these roofs (or any class 4 hail rating roof)
Cons of a Stone Coated Steel Roof:
These roofs generally have wind warranties of 120mph. It is extremely rare to see wind speeds above that but there are other products out there with higher wind warranties.
These roofs are generally one of the more expensive roofing systems on the market
They are highly susceptible to foot traffic damage, meaning no one should be walking on these roofs after they are installed
Quality Metal Roof Installation
The quality of the installers and project managers on any metal roof is of the utmost important. While sub-par installation of a shingle roof can often be remedied easily it is very difficult to correct a poorly installed metal roof. Especially on a custom fit, concealed fastener system, there is no room for error. When you are considering hiring an experienced metal roofing contractor in San Antonio you should make sure to have their project manager show you some previous jobs. Keys errors and cut-corners to look for include:
Over-torquing the screws
Chimney and wall flashings being glued as opposed to cut in
Uneven ridge and hip cap metal
Uneven cuts at the end of panels
Chimneys without crickets
Plumbing pipes or vents touching or in the middle of a seam between two panels
Using tar felt paper
There are also two key "best practices" for any standing seam metal roof that any quality metal roofing contractor would include in their bid.
Using high temp ice and water shield as underlayment. This costs more than synthetic felt but will virtually guarantee you never have a leak regardless of what happens to the metal itself
Using backer rods to help mitigate potential oil canning
Defending Your Home
is Our Mission
Best Metal Roof Company in San Antonio
At Presidio Roofing we pride ourselves in being experts in all things metal roofing. We have the attention to detail, work history, and product knowledge to provide the best metal roofing for your home or business, anywhere in Texas. If you would like a free quote, consultation, or inspection, just fill out the form below and a project manager will reach out.