Tile Roofing Company in San Antonio, TX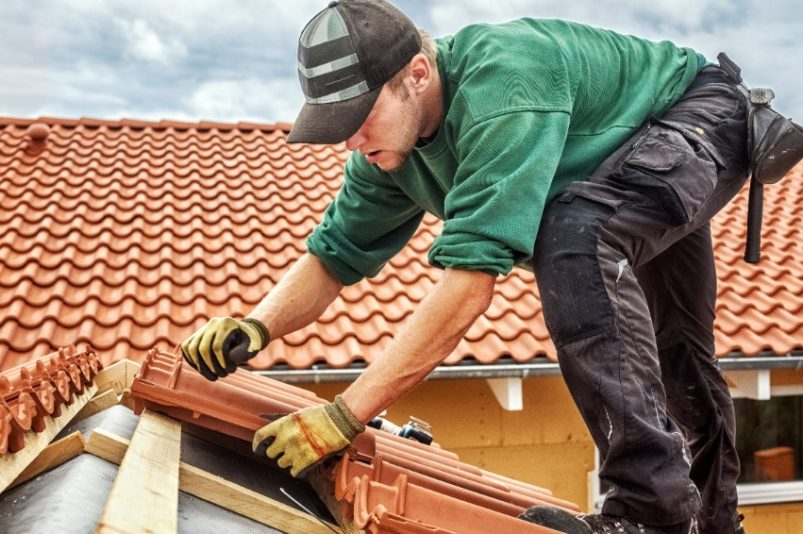 At Presidio Roofing we are the most trusted tile roofing contractor in San Antonio and across Texas. Whether you need a tile roof repair, a tile roof replacement, or a tile roof for new construction, we are here to help. From San Antonio to Austin to Denton, our team of tile roofing experts has helped countless home and business owners navigate all their tile roofing needs.
Why Choose a Tile Roof?
For thousands of years Tile has been the go-to roofing system in civilizations across the world. Important buildings, churches, and landmarks have been roofed with tile for ages because builders know their durability, beauty, and strength. From the glazed terra cotta tiles of ancient China to the Spanish barrel tiles that adorned the presidios and missions of Texas, these roofing systems are everywhere, and for good reason.
Strength:
In Texas the primary reason for roof leaks is damage from hail and windstorms. Due to the strength of clay and concrete tile roofs they can withstand these storms at a much higher rate than shingle roofs. Concrete tiles are considered impact resistant meaning they can withstand hail stones up to 2" in size and for most home and business owners this will get you a significant discount on your property insurance. Likewise, if individual tiles on a roof are broken by hail or wind, they generally can be replaced without compromising the roof as whole. That is why most tile roofs have warranties in excess of 50 years and why the average lifespan of a tile roof is 75 years. When it comes to having the strongest roof possible a tile roof is a great choice.
Fire Resistance:
Most tile roofs are ASTM Class A roof coverings meaning the highest level of fire resistance. As well as resisting any fire starting on the roof, from a lightning strike for example, Tile roofs do not burn well and thus do not contribute fuel to an already existing structure fire. The Class A rating offers an important peace of mind for anyone going to sleep with a tile roof over their head.
Energy Efficiency:
Have you ever been in the attic of a San Antonio home in July? It is not a pleasant experience. While most asphalt shingle roofs will contribute to heating up your attic, a tile roof does the opposite. Concrete tile roofs are naturally a solar reflective product and do not absorb a significant amount of solar energy. Likewise, due to their size and density, the heat they do absorb throughout the day is stored in the tiles and not transferred into the attic as much as other products. All of this, combined with the natural ventilation the occurs with individually installed and overlapping tiles, creates a very energy efficient roofing system that will save you money on electricity and keep your home or business cool in the hot summer months.
Sustainability:
Tile roofing is the original "green" building product. The average Texas shingle roof is replaced every 6-10 years due to hail or wind damage whereas the average tile roof lasts 75 years. Not only does the durability of a tile roof makes it a sustainable product but also it is 100% recyclable. Whether clay, concrete, sand cast, or glazed a tile roof will always be a sustainable, green, energy efficient product choice for your property.
Types of Tile Roofing Systems
When you are choosing what kind of tile roof to have installed on your home or business the options can be confusing. As the best tile roofing contractor in San Antonio, we are well-versed in helping clients make the right product selections for their property. A tile roof installation is a significant investment in the value and longevity of your home, and we want to help you make the perfect choice.
Styles:
The most common tile styles or "profiles" in Texas are Spanish (barrel), curved (w profile), and flat tiles. Depending on certain characteristics of your roof each type of tile will have advantages and disadvantages. For example, a colonial style home in Alamo Heights might lend itself to a more northern European style flat tile whereas a hacienda style home in the Dominion is likely needing a Spanish style barrel tile. Your Presidio Project manager will help guide you through which is best for you.
Materials:
In general, you will be choosing between two categories of tile material – Clay or Concrete. Within these categories there are sub-categories such as sand cast and terra cotta but the differences between the two categories are simple.
Clay Tiles are generally hand formed, baked tiles, that are lighter, more easily breakable, and more earthen in appearance.
Concrete tiles are heavier, more durable, and more commonly used in construction today. A concrete tile will generally hold up longer to the elements, especially hail and wind, which is particularly relevant here in Texas.
Manufacturers:
At Presidio roofing we have installed tile roofs from nearly every manufacturer on the market. The most common tile roof brands you will see in San Antonio are:
Westlake (acquired Boral)
Eagle
Crown
Clay Mex
Ludowici
Santa Fe Tile
Bartile
Because tile roofing is used world-wide you will often see tiles shipped into Texas from other countries for specific projects. It is not uncommon to see tiles such as Tejas Borja from Spain or Umbelino Monteiro from Portugal on custom homes in San Antonio.
Defending Your Home
is Our Mission
Cost of a Tile Roofing System
Simply put there is no way to accurately give a standard price for any roofing product, let alone something as unique as a tile roof. It is important that a project manager carefully inspects your roof and gathers all the necessary information to provide an accurate bid. A tile roof replacement will cost somewhere between $12-$30 a square foot but that price variation is wide and there are many factors that will swing it up or down. Some of these factors include:
Type of tile. Is it a clay or concrete tile? Is it glazed? Is it a custom tile?
Type of roof. Is your roof steep or 2 story? Does your roof have a lot of valleys and hips, which means more waste needed?
Decking. Do we need to replace the wood decking to provide a more suitable nailing surface?
Flashings. Do you have a lot of wall and chimney flashings that need to be formed? Is a product like Westlake WakeFlex roll flashing going to be used in abundance?
Manufacturer. A Ludowici tile will generally cost 2-3x more per square foot then a builders grade clay tile.
Underlayment. Are you going to use a heavy duty ice and water shield underlayment from brands like Grace or Owens Corning or are you sticking with a synthetic felt product?
These are just some of the factors involved in pricing out a tile roof replacement. It is important to understand that anyone giving you a firm fixed price on a tile roof replacement without looking at your roof and reviewing products with you is simply not being honest and the price will likely change significantly as the build progresses. One of our prime goals as the most trusted San Antonio tile roofing company is to give accurate and reliable pricing up front so that there are no surprises as your project advances. We also offer financing options to help you be able to focus on getting the right roof with less worry about immediate cost.
Leaking Tile Roof
Our roofing technicians are experts in finding the source of leaks on tile roofs and providing the most cost effective and expedient path to stopping the leak. We are the best San Antonio tile roofing company when it comes to tile roof inspections and tile roof repairs. Luckily on tile roofs the source of water leaks is often due to just a few issues:
Underlayment:
It is extremely important that a tile roof have adequate underlayment. While tile roofs are often considered the top roofing systems, they do need to have a watertight underlayment system. If you have a proper underlayment system, such as a granulated roll roofing or high temp ice and water shield, then a broken tile will never cause a leak. At that point the tiles themselves are the strength and protection for the underlayment and the underlayment is true water proofing barrier. It is extremely important you make sure your tile roofer in San Antonio is not cutting corners on the underlayment. Advantages of an Ice and Water shield underlayment include:
Seals around the fasteners
All laps are watertight
Will not crack or dry out
Slip resistant surface
Flashings:
The most common cause of leaks on a tile roof is damaged or failing flashings. Because concrete and clay tiles will last generations, often the metal flashings that waterproof your home at places like chimneys and walls, will go bad before the tile does. Over the years products have evolved and there are now flashing products such as Rolled Flashing like WakaFlex that will stand the test of time.
Broken Tiles:
A broken tile is naturally the easiest way for water to get into your attic. Our project managers are adept at spotting broken tiles, whether due to hail, wind, or just age, and providing quick and easy repairs. Likewise, we offer drone inspections so that we can carefully inspect a roof for obvious broken tiles, without needing to walk on the roof and potentially cause additional damages.
Insurance Claims:
Sometimes a leaking tile roof is eligible for a home or business property insurance claim. At Presidio Roofing we have the most qualified tile roofing insurance claim team in San Antonio. Our project managers and office staff are experienced and educated on properly assessing tile roofs for storm related damages. We can help you decide whether it makes sense to file an insurance claim and guide you along that path within the confines of Texas Department of Insurance rules and regulations. While we are not public adjusters we are tile roofing subject matter experts and we have your best interest in mind.
Defending Your Home
is Our Mission
Tile Roof Replacement in San Antonio
At Presidio Roofing we are San Antonio's tile roofing experts. Whether an inspection, a repair, or a replacement, we will provide the best service, pricing, warranties, and professionalism for your tile roofing project. Call us now or fill out the form below for a free consultation.