TPO Roofing Company in San Antonio, TX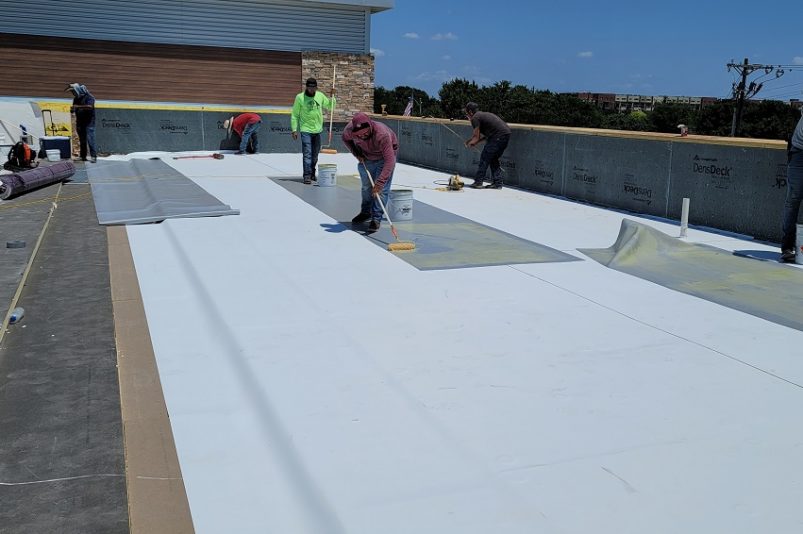 TPO roofing products are new in the world of roofing, having only started to arrive in the US in the early 90's. Flat roofs for the last century had been constructed with modified bitumen and other asphaltic products, as well as EPDM, but when TPO arrived it changed everything. Today, TPO (thermoplastic olefin) is the most well-known and utilized flat roofing product for many reasons. TPO roofing in San Antonio, Texas is becoming more and more common every day as less builders and roofers are willing to use asphaltic flat roofing products.
What is TPO?
TPO roofing material is a single-ply roofing membrane made from a blend of rubber and plastic. TPO revolutionized roofing because it can be molded, welded, and shaped when heated and then solidified when cooled. This allows for the installation of a roof that when installed correctly is completely waterproof. TPO roofing material is typically white or light-colored and is available in varying thicknesses of 45-mil, 60-mil, and 80-mil. It is installed in large rolls, which are then welded together to create a seamless roofing system. The membrane can be mechanically fastened to the substrate or fully adhered with special TPO glue products. The panels are then hot air welded together to create one complete roofing system.
Some of the main manufacturers of TPO roofing products are GAF, Firestone, Mulehide, and Carlisle and it is important that any TPO roofer in San Antonio has a certification with at least one of these companies.
Benefits of a TPO Roof
TPO roofing has many benefits over other flat roofing products. Some of the primary benefits are:
TPO Roofing NDL Warranty
An NDL warranty is the top warranty for any flat roofing system. NDL warranties, or "no dollar limit" warranties, are warranties that warrant a building against any leaks and all costs and repairs needed to fix the leaks, for a specified period. Most NDL warranties are 10-25 years in length. If you are installing a TPO roof on your business, you need a TPO roofing company like Presidio Roofing who can provide a NDL warranty. To be eligible to provide an NDL warranty a TPO roofer must be certified with the manufacturer being used. A TPO roofing contractor that cannot provide any level of NDL warranty should not be installing your TPO roofing system.
Efficiency and Sustainability
TPO roofs have a high solar reflectance, which means they reflect a large portion of the sun's heat away from the building. This can reduce the amount of energy needed to cool the building, resulting in lower energy bills and a reduced carbon footprint. When installed with the correct insulation system a TPO roof will provide the best energy efficiency of any flat roofing system. Additionally, TPO roofing products are often made with recycled materials, which makes them an environmentally friendly choice.
Long Lasting
Flat roofing products must be stronger than steep roofing products because water will sit on these roofs. No matter how perfectly designed, tapered, and built a TPO roofing system is, there will be some areas where water sits for long periods of time after a rain. Not to mention Ice and Snow which can sit on a flat roof for weeks on end in the winter. TPO is a completely water-resistant product and will usually have warranties for water degradation of 20-30 years in length. Likewise, TPO roofs hold up to hail damage and some TPO products such as GAF Everguard Fleeceback 80-mil will not be damaged by hail less than 2.5" in size. Along with water resistance a TPO roof also has high resistance to UV radiation and will degrade at a much lesser level than asphalt products. On modified bitumen roofs, or BUR systems, the sun will start to crack the membranes while on a TPO roof this is not a risk.
Ability to Install and Warrant a Layover
One unique aspect of TPO membranes is that in many situations you can install and weld the membranes in place over existing roofing systems such as modified bitumen. San Antonio TPO roofing companies like Presidio Roofing can even provide NDL warranties for layovers. This means that property owners don't always have to pay the price for a full tear off and replacement of their existing roof in order to stop leaking. Due to the size of commercial flat roofs, a TPO layover can save you hundreds of thousands, even millions, of dollars on a new roof system without sacrificing any quality.
TPO vs EPDM
Low Slope Products
The most common single membrane flat roofing option outside of TPO is EPDM (ethylene propylene diene monomer). EPDM has been around longer than TPO and is a rubber-based roofing product as opposed to plastic based. In general EPDM is not a pliable and easily formed as TPO and is more prone to failure at the welded seams.
Some reasons to choose TPO over EPDM:
TPO has 3x more puncture resistance than EPDM materials.
EPDM will shrink, deform, and wrinkle easier
Welded TPO seams and stronger than taped EPDM seams
In sunny, hot climates a white TPO roof has much greater thermal reflectivity than a black EPDM roof
Defending Your Home
is Our Mission
TPO vs PVC
On the surface a TPO and a PVC roof look the same, and they are quite similar in many ways. PVC, or Polyvinyl chloride, has been around longer than TPO and is more familiar to many older roofing contractors. PVC usually costs a bit more than TPO and is best utilized on the roofs of plants, restaurants, and manufacturing facilities where grease and other harmful oils and products can get onto the roof. PVC holds up well to these types of corrosive liquids whereas TPO will have trouble withstanding their degrading effects.
How Much Does a TPO Roof Cost
There are so many individual factors that play into the cost of a TPO roof replacement in San Antonio. Due to these factors, providing a range of pricing is not a very helpful exercise. However, in general, a TPO roof will cost less than a PVC roof and a bit more than a modified bitumen roof. Some of the main factors influencing the price of a TPO roof are:
The work scope. Full replacement vs. Layover
Are you going with standard TPO or Fleeceback TPO which is stronger and heavier?
How Much Insulation board is being used and Are you tapering the insulation board?
Are you using a coverboard or Densdeck type product?
Are you mechanically fastening or fully adhering the membrane?
Is the membrane 45, 60, or 80 millimeters thick?
The amount of roof components and roof mounted objects like HVAC units
Are you terminating on a flat edge or a parapet wall?
The best way to get an accurate pricing for your TPO Roofing Project in San Antonio is to call Presidio Roofing and have one of our trained project managers provide a free consultation for your property. We are the #1 TPO Roofing Company in San Antonio and ready to help you with your project!