Slate Roofing Company in San Antonio, TX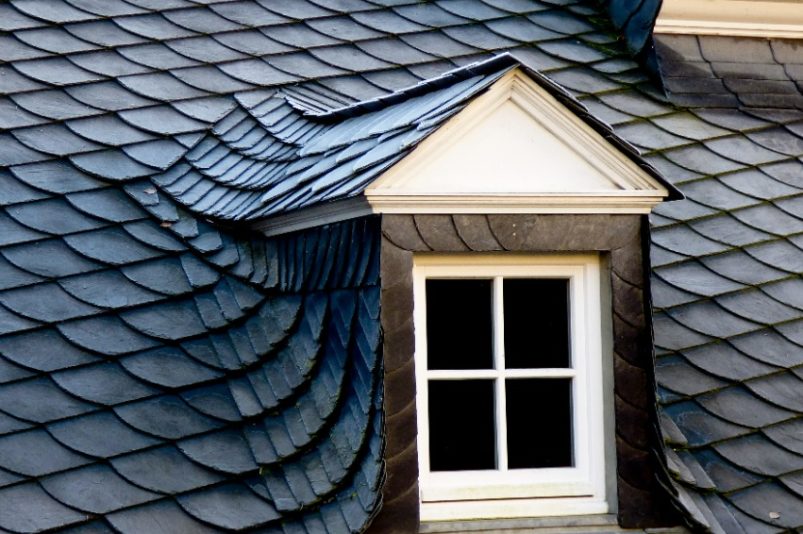 Slate is the best example of high-end and natural beauty in the world of roofing products. Slate roofing can be made from a variety of materials but is most often from metamorphic rock that has been compressed and heated over time. This process creates a material that is dense and durable, with a natural beauty that is difficult to replicate with composite materials. You will most often find slate roofs on historic and high-value properties such as courthouses, churches, and large homes and mansions across San Antonio. Presidio Roofing has replaced Slate roofs in many areas of the San Antonio metro such as Alamo Height, Terrell Hills, and the Dominion. If you are considering a Slate Roofing Contractor in San Antonio we are your #1 option.
Slate Roofing Longevity
Slate roofing is primarily used because of how long it can last, and it is not uncommon to see slate roofs that well over 100 years old. Because slate tiles are so heavy, durable, and non-porous, there is very little reason why a slate roof would need to be replaced. If an individual slate tile breaks it simple to replace it and thus with proper maintenance a slate roof will last longer than just about any roofing system on the market. The non-porous nature of slate tiles also means that they hold less moisture which greatly protects them against freezes and thaws that can crack other roofing products.
Cost of a Slate Roof in San Antonio
The beauty and longevity of a slate roof does not come cheap. In terms of price point a slate roof will almost always be the most expensive option for your home or business. Slate stones are individually mined from quarries far away from San Antonio and after that are treated, shipped, and finally installed by our trained professionals. There is no other roofing product that gets this level of individual care and effort put into it and because of this your pricing range for a slate roof replacement in San Antonio will be somewhere between $20 and $40 per sq foot. Factors such as the grade of slate you use, the amount of slopes your roof has, and how steep and tall the roof is will greatly affect the price point.
In paying the premium price for slate you are adding significant value to your property while avoiding the inevitable roof replacements that come with other roofing products every 10-20 years. In the lifetime of an average slate roof is not unreasonable to say that a shingle roof on that same property would have been replaced 5 or more times. This puts Slate in the same category as clay and concrete tile for longevity and cost-to-benefit ratio over time.
Defending Your Home
is Our Mission
Slate Grading
Like all roofing products, slate roofs are put under ASTM testing and given grades based on their quality. The criterion for each grade Includes their water absorption, weather resistance, and flexibility. Grade S1 slate mined in North America has an expected life service of more than 75 years and some slate companies offer warranties on this grade slate of 100 years.
When considering a slate roof, it is so important to verify the slate product your slate roofer in San Antonio is installing. The brand and grade can be the difference between a slate roof that lasts 20 years and one that lasts 200 years. Like any product in any industry there are low-grade options on the market and that is why you need a trained professional from Presidio Roofing to guide you through the process of selecting your slate material. When you are considering purchasing the most expensive, longest lasting, and beautiful roofing product available there is no room for cheap imitations.
Downside to Slate Roofing
The primary downside to slate roofing in San Antonio is that slate tiles do not hold up well to hailstorms. Most slate roofing installation will hold up to hurricane force winds but hail above 2", especially dense hail, will break slate tiles. The lower grades of slate like S2 and S3 will break easier than thicker S1 quality slate, nonetheless, we get a lot of hail in San Antonio. This is one of the main reasons you will see more tile roofs in San Antonio compared to slate roofs as tile roofs offer another naturally beautiful product but also one that holds up well to hail.
Slate Roofing Insurance Claim
If the slate roof on your home or business was damaged by a hailstorm it is important you call Presidio Roofing right away. Inspecting a slate roof is not the same as inspecting a shingle roof and if you let someone climb on your slate roof it is very likely they will cause more damage with their boots. At Presidio Roofing we offer a full drone inspection service and with our extensive experience we can help you identify whether you need a slate roof repair or if it would be best to file an insurance claim with the goal of getting your whole slate roof replaced by your insurance carrier.
"Slate Style" Products
Many home and business owners want the look of slate roofs without the price tag and because of this there are many slate-style options on the market. On the lower priced side you have asphalt shingle brands manufacturing slate-looking products such as Owens Corning Berkshire or OwensGAF Slateline. While on the higher prices side you have composite slate products such as products made my Paragon, Brava, and Davinci. There are even stone-coated steel products made by Decra and Tilcor that have a slate look.
Ultimately, if you want the slate look on your home, but not an actual slate roof, you have options and Presidio Roofing is the premier installer of composite slate products in San Antonio.
Defending Your Home
is Our Mission
Best San Antonio Slate Roofing Company
From slate roof repairs, to slate roof replacements, to slate roof insurance claims, we are the top slate roofing company in San Antonio. For a free consultation on your slate roof call Presidio Roofing today.