Roof Replacement Company in San Antonio, TX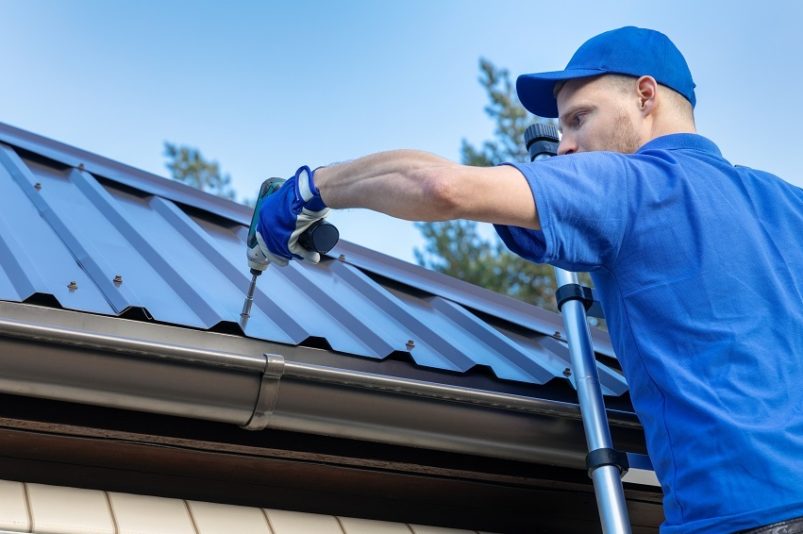 When you need a roof replacement in San Antonio, Texas there is no better company than Presidio Roofing. Whether you need a residential roof replacement or a commercial roof replacement we have the knowledge, experience, and team atmosphere to provide you with the best roofing experience in San Antonio.
Should You Replace Your Roof?
The first decision the make is simple – does your roof need to be replaced? There are a few questions to ask yourself that can help you make this decision.
Was your roof severely damaged by hail or wind?
San Antonio has one of the highest yearly hail and windstorm averages in the US. On any given year we have multiple severe weather events that can damage your roof. If your roof has been struck by one or more storms you need to consider having a roofer look and assess for damages. Most residential and commercial roof replacements in San Antonio are due to storm damages and are covered by property insurance. Presidio Roofing is well versed and has years of experience helping property owners navigate insurance claim roof replacements.
Is your roof leaking in multiple areas?
If your roof is leaking in one spot, you might just need a small repair. If your roof is leaking in multiple areas or continues to leak no matter how many repairs are done, you probably have a roof-wide issue. It is not uncommon for property owners to continually patch and repair their roofs but at some point, you need to evaluate the cost benefit ratio of fixing the problem once and for all. As roofing products continue to advance there are many options now that provide warranties for 10, 20, even 30 years on both labor and materials.
Oftentimes a roof simply reaches the end of its life. Not all roofing products are made to last for 50-100 years like Tile Roofs and eventually they will start to fail and look bad. One tell-tale sign that a shingle roof has reached the end of its life is when it has lost its color and you can see glimmering white strands in the shingles. This means that the top layer of granules has degraded away, and the base fiberglass matting is now exposing itself as well. When you see shingles like this it is only a matter of time until they develop physical holes and water starts to come into your home or business. Other obvious signs of a bad roof include curled shingles, algae growth, dark stains on the roof, and missing or broken shingles. One of our experienced project managers can help point out other signs of roof degradation and failure.
Does a real-estate transaction require it?
Oftentimes, regardless of a roof's condition, a real-estate transaction will require it to be replaced. We recognize how time sensitive a real-estate transaction can be and thus provide expedited service for all realtors, sellers, and buyers in San Antonio and surrounding areas. A significant percentage of all of our work comes from realtors who need quick and economical roof replacements.
These are just some of the many reasons why it could be time to replace your roof. If you think it could be that time Presidio Roofing is the best roof replacement contractor in San Antonio and our experienced project managers will help provide you with the best information to make that decision.
Defending Your Home
is Our Mission
So, It's Time to Replace your Roof!
Replacing your roof does not need to be a hassle. Whether covered by an insurance claim or paid for out of pocket, our goal is to install a brand-new roof that will increase the value of your property, add to its curb appeal, and fit within your budget. Our expert roofing project managers will help you from start to finish in the roof replacement process.
Roofing Material Options
Depending on whether you have a steep slope roof or flat roof you have many options to choose from. Most residential roofs have steep slopes and most commercial roofs are flat roofs.
Steep Slope Roof Options:
3-Tab Shingles
Architectural Shingles
Impact Resistant Shingles
Designer Shingles
Solar Roofing Shingles
Clay Tile
Concrete Tile
Metal
Slate
F-Wave
Composite Shake
Composite Slate
Stone Coated Steel
Flat Roof Options:
Modified Bitumen
Built-Up Roofing Systems
How Much Does a New Roof Cost?
There is no universal equation for how much a San Antonio Roof Replacement Costs and every type of roof has its own factors that increase or decrease the price. However, you can start with a standard range, for many products.
Regardless of the materials, there are some universal factors that will increase the cost of a residential roof replacement in San Antonio.
The steeper or taller the roof the more it will cost. Safety and speed of work is influenced heavily by these two factors and prices will increase accordingly.
Work scope. Are you tearing off the old roof down to the decking and replacing everything or are you covering some or all old material with a new roof?
Warranties. Most roofs have standard material warranties but there are always more exhaustive roof warranties given out by material manufacturing companies to certified installers. For example, as one of the only Owens Corning Platinum Preferred Installers in San Antonio we are among only a handful of companies that can offer the Platinum Protection Warranty.
Shingles are by far the most common roofing material in San Antonio and the average shingle roof is about 3000 square feet. For a 3000 square foot shingle roof you can expect your cost to be somewhere between $10,500 and $30,000 depending on the type of shingle you choose, and the specific work scope and factors involved in your roof.
Here are some ranges for different shingle types:
3-Tab Shingles – $3.50 to $5.50 per square foot
Architectural Shingles – $4 to $7 per square foot
Impact Resistant – $4.50 to $7.50
Designer Shingles – $5 to $10 per square foot
Here is a link to see all the different shingles offered by Owens Corning.
Here are some price ranges for replacement of other common residential roofing materials in San Antonio:
Metal – $10 to $20 per square foot
Stone Coated Steel – $9 to 20 per square foot
F-Wave – $10 to $16 per square foot
Composites – $15 to $25 per square foot
Tile – $15 to $30 per square foot
Slate – $20 to $40 per square foot
These price ranges are a good starting point to help guide you towards different products for your roof replacement. Our experienced project managers will help give you the knowledge needed to make the best material decision by:
Inspecting your roof and documenting all its individual needs
Providing samples of all materials you are interested in
Showing you roofs we have completed with materials you are interested in
Quoting prices for any materials you desire
Going over all the varying work scope and warranty options
Commercial Flat Roof Replacement Cost
When it comes to replacing a commercial roof in San Antonio there are generally two different methods: Full Tear-Off & Replacement and Layover. A layover is when you install a membrane, such as a Fleece back TPO or PVC, over an existing roof. In general, a full replacement will always be more expensive than a layover and each method its applicable to individual situations.
Reasons to Fully Tear-Off and Replace a Flat Roof:
You have more than 1 type of roof on the building already thus code requires it
The insulation board is waterlogged from heavy leaking across the roof
The insulation board under the main roof membrane is physically damaged
Your current roof does not have positive drainage
You have an insurance claim paying for full replacement
Reasons for a TPO layover:
You have only 1 roof type on the building
You are looking for a more inexpensive option
You don't have much leaking
If properly done, a full replacement and a layover can both be granted top NDL warranties by manufacturers like Carlisle and Mulehide. To be eligible for an NDL warranty, you must use a certified installer and they must install the roofing system per the exact manufacturer specifications for that building as dictated by the local material rep after a site visit.
From a pricing perspective there are many factors in pricing out a commercial roof replacement outside of just the roofing product. Key factors that increase the cost include:
How much insulation board is needed, and will it be tapered? Tapering a flat roof means installing the insulation board (iso board) so that it varies in depth and thus provides drainage towards the edge of specific roof drains.
How many roof components there are such as HVAC units and Vents?
How tall the building is and how accessible it is?
Are you installing for and registering an NDL warranty?
What kind of material are you using?
All these factors play into the cost of a flat roof replacement and your Presidio Roofing project manager will help you choose what is right for your property.
Defending Your Home
is Our Mission
Best Roof Replacement Contractor in San Antonio
We are the best roof replacement company in San Antonio because we strive to understand our client's needs and help educate and guide them towards the best option for their property and their budget. We offer both retail and insurance claims-based roof replacement services and we accept all forms of payment. We also have various financing options to help match your budget.
If you are in need of a roof replacement in San Antonio please give us a call and let us show you why we are the most trusted roofing company in town.