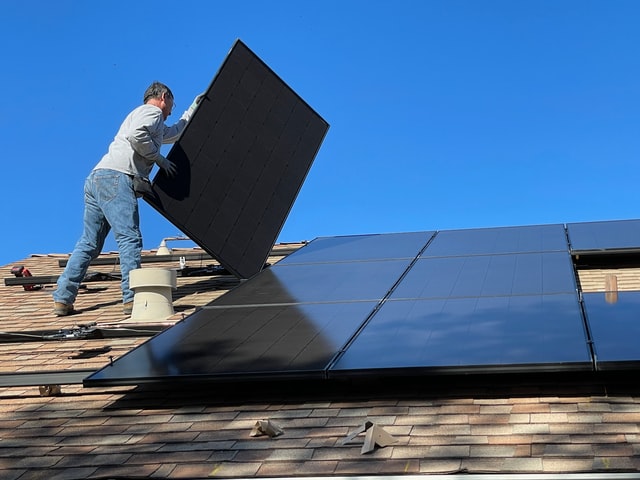 Solar panels last about 30 to 35 years. However, a traditional asphalt shingle roof only lasts about 20 years, while tile and metal have slightly different timelines. If you need to replace your roof while your solar panels are still in excellent condition, the project will be more complex than replacing a typical roof.
Considerations Before Installing Solar Panels
If you haven't installed solar panels yet, you need to consider the age and condition of the roof before beginning your project. Roofs that are within five to ten years of their expiration date might need replacing before the solar panels go up.
Therefore, you need to consider whether replacing your roof before installing solar panels makes sense. At this stage, it's a good idea to order a roof inspection. A professional evaluation gives you an idea of how long your roof is likely to last. Because the process for replacing a roof with solar panels is more complex than for a regular roof, you may save money by installing a new roof now.
Before installing solar panels, you should inquire about the price of removal and re-installation. Depending on the size of the project, it generally costs between $1,500 and $6,000 to remove and re-install solar panels. Knowing this expense will help you create a realistic budget that takes unexpected roof replacement costs into account. However, if you replace your roof at the same time that you install solar panels, you shouldn't have to reroof the building during the life of the panels.
Do You Have to Remove Solar Panels to Replace a Roof?
If you have solar panels on top of your building, you'll need to remove them before replacing your roof. You should contact the company that installed the panels to request a temporary removal. If you don't want to work with the original company, find a solar installer that maintains other companies' roofs.
Roofers don't generally perform that task. Having a licensed professional remove the solar panels will protect your investment. You'll also need them to reinstall the solar panels when the roof is complete.
This involves an extra step on your part. You'll need to act as the intermediary between the roofers and solar installers. It's important to coordinate the schedule so that the job can be completed as efficiently as possible. Some roofers have relationships with solar installers. They may work together, cutting out your job as the middleman and coordinating the project on their own.
An experienced roofer may also offer to remove and replace the solar panels themselves. Most solar panels use a simple bolt mounting system, which makes removing and replacing solar panels straightforward. Ask your roofer if they can perform this service to simplify the workflow and eliminate the need to juggle multiple contractors.
How Long Does it Take to Replace a Roof With Solar Panels?
It usually takes about one day to replace a traditional roof without solar panels. Large or complex roofs take longer to install. So do some roofs that are made out of alternative materials.
If you have solar panels, you should add about two days to the length of the job. Those days will be devoted to removing and re-installing the solar panels.
Will You Lose Power While the Roof is Installed?
When your solar panels are removed, they won't work to power your home. However, you won't have to go without electricity altogether. You'll get your power from the utility grid until the job is complete. This will cause your utility bill to spike, but it shouldn't increase the total cost of the project significantly.
Choose a Roofer That is Familiar With Solar Panels
When you're planning to replace your roof, work with roofers that are experienced working with solar panels. Different types of roofs use distinct kinds of mounting hardware to support the panels. If you replace the roof with the same type of material as the original, you shouldn't have to change the mounting hardware. This keeps time and expenses down.
Many homeowners worry that they'll damage their roof by installing solar panels. It's essential to keep both investments safe. Solar installers use a variety of safety measures to keep the roof's structure sound. A roofer that is knowledgeable about solar panels will also ensure that the roof is equipped to operate well with the panels. At Presidio Roofing, we will make sure that your essential roof features, such as vents and antennae, don't interfere with the solar panel placement.
Do Solar Panels Have to Come Off for Roof Repairs?
If your roof suffers acute damage, you might not have to remove the solar panels to conduct repairs. We can perform an inspection and explain your options. We may be able to work around the solar panels. If they need to come off, we can remove them temporarily while we fix your roof.
Solar panels can hide damage on a roof. They may also provide shelter for pests, which can damage your roof. Regular roof inspections are essential for properties with solar panels.
Contact Presidio Roofing to discuss roof inspections, maintenance, repairs or replacement if you have solar panels. Our technicians are experienced with solar systems and can help you optimize your roof's performance for as long as possible.