Do you spend a lot of time outdoors? Whether you're the hot spot for summer barbecues or you just want some extra shade while you watch the kids play in the yard, you're looking for a solution. You've come across pergolas and covered patios in your research. But you're not sure which option is right for you. Learn more about the pros and cons of pergolas vs. covered patios so that you can make the best decision for your household.
What Is a Pergola?
A pergola is an open structure that is made up of pillars that support a lattice roof. The beams on the roof are spaced out, providing dappled shade underneath.
You can drape fabric over the roof beams for added shade. Some pergola owners hang curtains along the sides to protect themselves from the wind and sun. You can even design a pergola to support mesh netting that protects you from flying insects. A pergola doesn't have to be attached to your home; you can install one anywhere on your property.
What Is the Difference Between a Pergola and a Gazebo?
A pergola's roof structure is more open than a gazebo's. With a full-coverage roof, a gazebo provides better protection from the rain and sun. However, the roof can trap warm air below it. If a pergola is strategically placed, it safeguards you from the sun while maximizing your chances of feeling the breeze (See also: Patio Umbrella vs. Gazebo).
What Is a Covered Patio?
A covered patio is usually attached to the home. It involves building a roof over an existing paved outdoor space. You can also build a covered patio over a deck.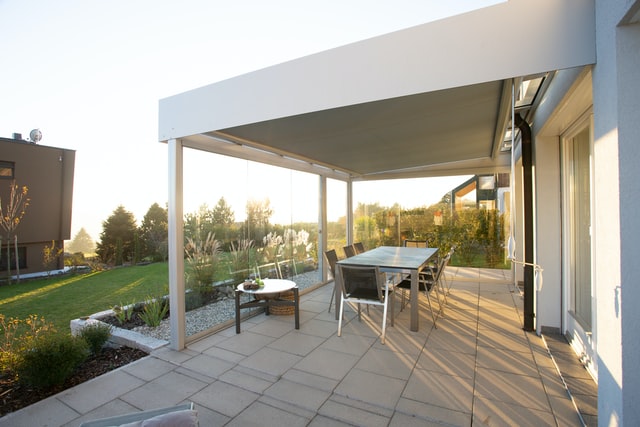 Many homeowners choose a covered patio when they want a permanent structure with a real roof. A covered patio's roof offers full coverage from the elements. It can be made with advanced roofing materials to stand up to the weather as effectively as the roof of your home does.
You can incorporate electrical fixtures, such as fans and lights, in a covered patio's roof. You can also add wiring to the support structures to power sconces or other types of lighting. Screens, awnings and other protective elements make excellent add-ons for a covered patio.
What's the Difference Between a Covered Patio and a Sunroom?
A sunroom is usually built from scratch. It serves as an extension of the home and may be climate controlled. The walls are usually built like the rest of the home. They may be filled with windows, but they're more than supportive pillars. Many sunrooms let you swap glass windows for screens in the warmer months.
A covered patio doesn't have walls. Although the roof may match the home architecturally, it's generally supported by pillars. Therefore, it allows for plenty of ventilation. You can't cool it with an air conditioner in the summer. However, you can increase the airflow with a fan.
Choosing Between a Pergola and Covered Patio
Do you want to add onto your house, or would you rather enhance your garden? That's one way to frame this decision.
While items like a patio umbrella or pergola can complement your home's design, neither are as imposing as a covered patio. Wooden pergolas are popular because they reflect a natural aesthetic. In fact, pergolas are ideal structures to nestle into gardens. Trailing plants can use them to support their growth. As the plants mature, they'll create shade and privacy.
Even if you're not a gardener, you might think of a pergola as a structure for short-lived jaunts in the yard. A pergola won't protect you in a drenching rainstorm. You might be too hot to sit in it in the middle of a summer day.
A covered patio, on the other hand, gives you a space to settle in for longer. You can play games as the rain falls around you or turn on the ceiling fan to enjoy lunch outside in July. A covered patio gives you more protection in inclement weather.
Both structures are durable. However, a covered patio is built to similar code requirements as your home. Therefore, it's more likely to last for a long time.
A covered patio and a pergola will add visual interest to your yard. They also increase your property value. Although covered patios go further when it comes to boosting property values, they also require a bigger up-front investment. Still, they can reduce your energy bills by deflecting some of the sunlight that would otherwise beat down on the exterior walls.
Questions to Ask Yourself and Your Builder
An experienced contractor will go over the benefits and disadvantages of each type of structure for your space. But you can ask yourself the following questions to streamline the decision-making process:
Do I want to build an addition to the home?
Do I want to protect a patio or deck from the elements?
Do I need electrical work in the structure?
Do I want to add accessories, such as an outdoor kitchen, speakers or an entertainment center?
Do I want to have an outdoor space that is welcoming in all weather?
Do I want to protect my outdoor furniture from the elements?
Do I want to reduce the temperature inside my house during the summer?
If you answered yes to most of these questions, a covered patio might be a better option than a pergola. Your budget may also come into play.