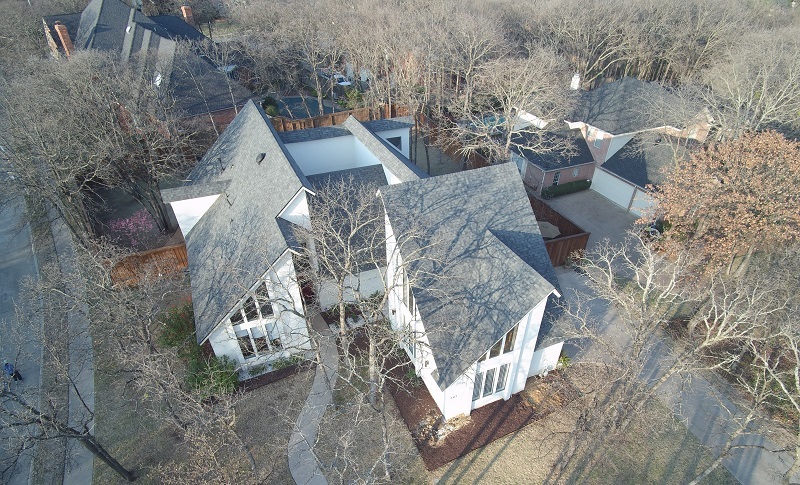 When you're looking for a roof for an outdoor space, you might come across louvered roof systems. While this design isn't used on the main roof of a home, it is popular for porch, pool house and pergola roofing. It creates an adjustable roof that can be changed to enhance the lighting and air circulation.
The History of Louvered Roofs
Louvered windows have been around for ages. They allowed openings in a building to be made with metal or wood when glass wasn't available. The slats could be closed for privacy and temperature control and opened for ventilation and a view to the outdoors. 
Although louvers—the movable slats—are not a new innovation, louvered roofs are. The first commercial louvered roofs were produced in Australia in the mid-1980s. They were made of steel and designed around a center pivot. However, these were heavy and could only span up to 12 feet. 
Over the next two decades, louvered roofs were optimized and refined across the globe. Advancements in technology allowed louvers to be lighter in weight and cover a larger area. Bottom pivots became more popular, but these made the louvers top heavy.
Louvered roofs began to gain popularity in the U.S. in the 2000s. Now, they're available in a variety of materials and styles. They're easier to install and use and can be adapted to many types of spaces. 
What Are Modern Louvered Roofs Made Of?
In essence, a louver works like the blinds on your windows. The slats line up with one another, and they rotate together to block the light or let it in. But louvered roofs must be made of materials that are much more durable than window blinds. The louvered roofs that are available today are usually made from metal, wood, plastic or glass. 
The materials have to withstand constant exposure to the elements. Fortunately, louvered roof manufacturers understand this and offer materials that are ideal for this application. 
Several types of plastics, including PVC, can be used for vinyl roofs. These materials are likely the best at withstanding precipitation and moisture. They are nonporous and completely waterproof.
Metal is also a durable material for louvered roofs. It's important to use corrosion-resistant, properly treated materials to prevent deterioration. However, there are many reputable louvered roof manufacturers that make high-quality metal roofing. With the right installation, these can be completely waterproof too.
How Do Louvered Roofs Work?
Most louvered roofs are powered by electricity. You can adjust them with the push of a button, and the slats will rotate through their full range of positions. 
To create a truly watertight seal, many louvered roofs have an interlocking design. The slats fit together like puzzle pieces, closing so tightly that rain, snow and debris can't get through.
Some louvered roofs are also retractable. The entire roof system glides along a frame, providing complete coverage or a wide-open area. When the roof is closed, the slats can also rotate to control the ventilation and shade.
Pros and Cons of Louvered Roofs
Louvered roofs give you more control over your outdoor environment than many other types of porch and patio coverings. They're made of durable materials and can be adjusted based on the weather and your needs. 
There are plenty of advantages to using a louvered roof over an outdoor space. However, there are also some downsides.
Pros:
Rain protection – If you're hanging out in your outdoor space and the weather becomes inclement, you can quickly protect the people and possessions underneath.

Offers shade when necessary – Shading your outdoor space will keep you cool in the summer and protect your furnishings from UV rays. But you might want to feel the warmth of the sun on chilly days, or open the roof to let sunlight reach the plants underneath.

Expand the use of your outdoor space – With a durable, adjustable cover, your patio or deck area can be used in more seasons. You can make more use of your backyard and get fresh air even if the weather isn't perfect.

Make the space feel bigger – A completely enclosed roof provides lots of shade, but you can't open it to sunbathe or see the stars at night. Being able to adjust the slats of a louvered roof enables you to make the space feel more expansive. Open the ceiling, and get a perfect view of the sky.

Easy to clean – This is the only type of roof that can be cleaned from beneath. Simply rotate the louvers to make the tops accessible from below, and wipe them or spray them with a garden hose.

Save energy – If the louvered roof is attached to your home, use it to moderate the amount of sunlight entering the windows or doors below it. Shading the sun during its most intense hours keeps your house cool and power bills down. Allowing light to enter before sunset warms your home without requiring you to turn up the heat.
Cons:
Not insulated – Although the slats allow you to control the temperature in your space via ventilation, they're not insulated. If you have fans or outdoor heaters, this type of roofing won't trap the heat as well as a finished roof. Still, it holds in heat better than fabric or lattice.

Doesn't block debris – Leaves, pine straw and other debris can fall between the slats when the louvers are open. If any material is sitting on the slats when you open them, it can fall through in clumps. Therefore, a louvered roof can be messier than other types of patio covers. Keeping the surface of the roof free of leaves and other debris helps you maintain a cleaner area underneath too.

Requires regular maintenance – The motorized parts of the louvered roof must be maintained as well as the surface. Operate the roof, rotating the slats at least twice a week during the warmer months. Check with the manufacturer to find out how to deal with snow on your louvered roof. They might recommend that you keep the slats open vertically during the winter months.
Convenient Features
The following add-ons and features make louvered roofs even more beneficial for your outdoor space.
Motorized – Being able to control the louvers electronically makes it fast and easy to adjust them. Some even come with remote controls and apps so that you can adjust the roof using a mobile device. 

Sensors – If the weather changes on a dime and you're not around, you can opt for a louvered roof with automatic sensors. These detect changes in precipitation, wind and sun and adjust the louvers accordingly.

Drainage system

– Your louvered roof should be outfitted with an appropriate drainage system for the structure. Most have a gutter and downspout system to prevent water from collecting in undesirable places.

Heaters – Some manufacturers offer heaters that hang from the ceiling and are designed for use with the louver materials. Check with a manufacturer before installing a different type of heater to make sure that it won't damage the roof.
A louvered roof can be installed on an attached structure, like a deck or porch. You can also attach this type of roof to a freestanding patio with a frame, such as a pergola. While they're more of an investment than patio covers or fabric awnings, louvered roofs are a versatile way to extend your living space outdoors.