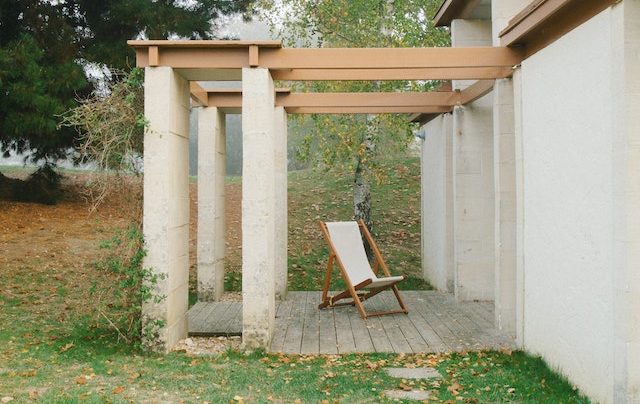 A screened porch gives you a room that you can enjoy in just about any season. It provides a transition between your interior environment and the outdoors, allowing you to enjoy the comforts of your home while watching the stars or soaking in the sunshine. If you have a roof on your screened porch, however, you won't have a view of the sky. There are several ways to create a screened porch with an open roof that gives you better access.
Why Would You Want a Porch Without a Roof?
Do you love the feeling of the sun on your face as you bask in the cool breeze? A porch with a roof provides shade, which is perfect for some scenarios. But it makes it difficult to catch rays. If your porch is located in a relatively shady area already, you might not have a reason to add a roof.
A porch with a roof also darkens the inside of your home. You can avoid creating a shadow indoors by building an outdoor structure with an open roof.
Furthermore, a screened porch without a roof provides a safe boundary for kids and pets. It allows your furry friends to join you when you're enjoying nature. An area like this also contains your children while they play outside, providing a safe boundary so that you don't always have to be on high alert.
Create a Pergola
A pergola is an open-air structure that mimics a porch. Instead of being connected to the home, it can be placed in any part of the yard.
You can purchase a mesh pergola cover to add screening to the structure. Sheer curtains that flow across the top and drape over the walls protect you from insects. Leave the roof open, or add a few cross beams to support the screens. This is a project that many homeowners can tackle on their own.
Screening in Your Deck
If you have an existing deck, you already have an outdoor spot for entertaining and relaxing. But you might want to add screens to keep debris out of the space and let your pets into the porch.
You can create the basic structure for a porch and screen the walls and ceiling with the same material. This will keep the insects and leaves out. However, it won't protect you from rain. Because it's rare to see snow in this area, you don't have to worry about heavy accumulation on the screened roof.
Build a Pool Enclosure
Many indoor pools are actually installed in an outdoor area and covered with a greenhouse-like structure. This is one of the most expensive options. However, it is the most permanent.
If the enclosure is made of glass or polycarbonate, it can get hot inside. If getting fresh air into the space is important, install screens in the sides. If not, you can extend your air conditioning and heating into this space.
Add Skylights
Perhaps you have an existing roof on your screened porch. In that case, you might want to add skylights instead of removing the roof. This investment creates a high-quality surface that withstands stormy weather. Choose skylights that open to improve air flow in the porch.
Install a Retractable Roof
With a retractable roof, you get the best of both worlds. You can close it in inclement weather. You'll block your view of the sky, but you'll also be able to use the space when it's raining.
There are several types of retractable roofs, including:
Louvered – This type of roof is made of several narrow planks that rotate to let the light in.
Polycarbonate – This rigid plastic is translucent and resistant to the elements. It won't obstruct your view of the sky. However, it protects against UV rays and creates a thermal barrier. This long-term solution transforms your screened porch into a covered room without casting shade.
Fabric – Fabric retractable roofs look like a combination of an accordion and a curtain. They usually slide along a track in the upper frame of the porch. Choose outdoor fabric that resists sunlight and mildew to extend the life of this type of roof.
Awnings – These are usually attached to the house and extend over a patio, porch or deck. An awning can be opened and closed quickly and is an excellent budget-friendly option to cover your screened porch temporarily. Just make sure that the awning extends beyond the porch border to avoid dumping rain inside.
Retractable roofs can be manual or automatic. If you want to use the screened porch at a moment's notice, an automatic roof will be most convenient. If you plan to keep the area uncovered for a longer period of time, you might get the most from a manually retracting roof.
No matter what design you choose for your screened porch, you'll need to ensure that it drains properly. If you're not sure whether your idea will work for your home, contact us for a consultation.