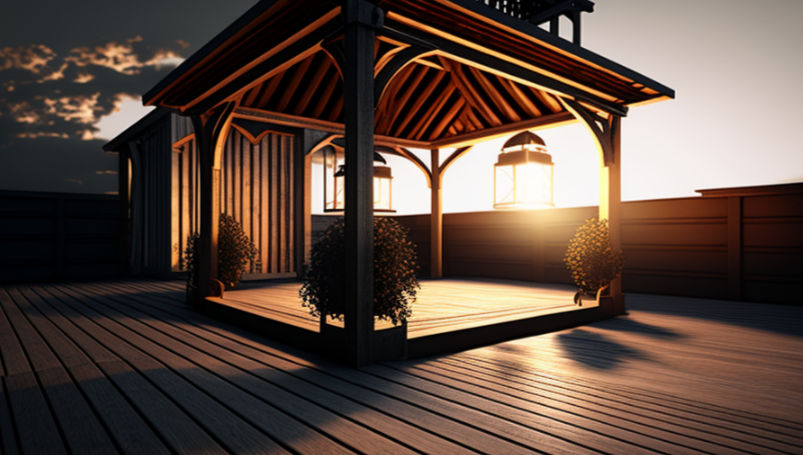 Your deck is awesome, but you might find that you're not using it as much as you thought you would. The sun beats down on it for much of the day, and inclement weather keeps you from enjoying the space. 
A freestanding deck roof would encourage you to use the space. But there are so many options to choose from. Should you hang a fabric sail or build a permanent structure to provide more shelter? Browse through these freestanding deck roof ideas to expand your use of the backyard and make it as visually appealing as it is functional.
Umbrella or Canopy
Umbrellas have come a long way in the past several years. If you're thinking that you need more than a scrawny umbrella that pokes into a hole in the center of your patio table, don't worry–you have options. 
You could raise an easy-up canopy whenever you wanted to spend time outdoors. However, these are difficult to secure to the deck, and you need to stabilize them to keep the umbrellas from spinning and blowing over. This would be a temporary solution that isn't the most aesthetically pleasing. 
Cantilever umbrellas, on the other hand, cover as much space as an easy-up canopy but rise out of a weighted base. They don't have poles at the corners, which means that they protect you from the rain and shade you from the sun but don't obstruct the space below them. You can also angle a cantilever umbrella to block the sun, wind or rain from a specific direction.
Shade
Shade sails are large pieces of outdoor fabric that can be stretched across a deck. They do need to be attached to a tall structure at each corner. If your deck is close to the house, you may be able to secure one edge of the sail to the building. However, you'll have to install posts around a freestanding deck to support this type of covering.
While a shade sail covers a good amount of space and offers excellent sun protection, it doesn't provide much security from wind and precipitation. In fact, you will likely have to take it down in inclement weather so that it doesn't become damaged. 
Awning
An awning falls somewhere between a shade and a permanent roof when it comes to freestanding deck coverage. A high-quality awning withstands some inclement weather, provides shade and protects the area beneath it. Awnings can usually be adjusted so that you can customize the amount of coverage for your deck throughout the day.
Pergola
Pergolas add privacy, shelter and character to your backyard, and they can be built easily over a deck. The cornerstones of the pergola are the pillars that create the foundation for the walls or roof framing. You can leave the walls and roof wide open, using the pergola to define the space. But this design doesn't provide much coverage. 
Here's where pergolas get interesting: you can add just about any type of roof that you'd like. Many pergolas have beams installed across the ceiling. These can support fabric, lattice or trailing vines, which create shade and wind protection without impeding airflow. A slatted roof provides partial shade too.
Take the pergola roof up a notch by building it from water-resistant materials. You don't need the same insulation beneath a pergola roof as you would under the main roof of a home. However, you can use similar materials, such as:
Metal (including corrugated metal panels)

Polycarbonate or plexiglass

Asphalt shingles 
This structure can be as intricate or basic as you'd like. Tailor it to match the aesthetics of your backyard as well as your lifestyle. 
For example, you can use rounded columns for a stately look that's impressive in the garden. Build a hip roof using exposed wooden beams and cedar shakes for a rustic look. Create stone pillars to match your Craftsman-style home.
Permanent Freestanding Deck Roof
When a pergola has a permanent, solid, weather-proof roof, it's often referred to as a freestanding deck cover. Think of this as the type of structure that you'd see over a shelter at the park. It offers the most protection and can be very versatile. But a permanent freestanding deck cover is usually the most costly solution.
Two of the most popular designs for a permanent freestanding deck cover are a gable and hip roof. These are built on a framework that includes at least four corner posts. The walls can be filled in with lattice panels or screens. However, they're usually open between the posts or columns.
A gable roof has a central ridgeline and two sloping sides. This symmetrical design produces a triangular panel at either end of the roof. If the roofer keeps this panel open or fills it with a transparent material, such as glass or screen, it brings additional light into the space. 
A hip roof's ridge doesn't span the entire length of the roof. Therefore, it has four sloping sides. It provides more coverage than a gable roof against wind and rain. However, it also makes for a darker area underneath if it doesn't have skylights.
Still, with a permanent roof over your freestanding deck, you can get creative with the additions and accessories. For example, a well-installed, weather-proof roof allows you to install fans, speakers and other electronics. 
The structure doesn't have to be complicated. You can build a simple metal framework with a corrugated tin roof or a complex wooden structure with an incorporated sound system and brick oven. 
However, there are more intricate roofing systems that may be perfect for your space. For example, louvered roofs offer the adjustability of an awning and the durability of a permanent freestanding deck covering. Working with an experienced roofer can help you learn about all of your options before making your final decision.
Which Freestanding Deck Roof Idea Is Best for You?
One of the best ways to narrow down your project is to look at the benefits and drawbacks of a temporary solution vs a permanent roof. Some questions to ask yourself include:
What does my budget allow for?

How much time and effort do I want to spend on regular maintenance/upkeep?

How much of the deck do I need covered?

Do I need to cover an irregularly shaped area?
If you have a small budget and limited space, a temporary solution, such as an umbrella or shade, might be ideal. But if you won't be diligent about retracting an awning or closing an umbrella when you're not using it, you might want to consider a more permanent structure. Your budget will usually determine the size and materials. However, spending more up front usually results in lower maintenance and replacement costs down the road.
A basic freestanding deck cover is also a fun DIY project for homeowners. If you attempt to build or install one yourself, make sure that you have the appropriate permits. Also, the type of roof will influence the drainage pattern around the deck. Make sure that you incorporate plans to direct rainwater adequately. 
Our professional roofers can provide more guidance about freestanding deck roof options for your property. We can tie the structure into the aesthetics of your home and yard while providing solutions for durability and weather protection.
Defending Your Home
is Our Mission