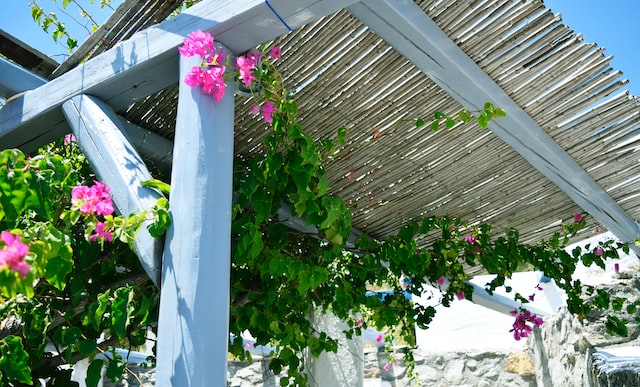 When you moved into your house, you were excited about your patio. Bathed in light, it gave you visions of outdoor dinners, casual gatherings, and backyard barbecues. But perhaps you don't find yourself using the patio as much as you expected. It gets blisteringly hot in the midday sun, and leaves pile up on the tables and chairs, making them more of an eyesore than a dining spot. 
There are several options for making your outdoor space more enticing and useful. You could buy a patio umbrella or build a screened‐in porch. But you might not want to invest in a porch, and an umbrella is not going to solve your problems. A solution that falls somewhere in between those two choices is a covered patio.
What is the Average Cost to Build a Covered Patio?
How much does it cost to build a covered patio? Is it the best option for you and your budget?
The price depends on several factors, including the type of covered patio and the materials that you use to build it. A simple awning could cost a few hundred dollars, whereas a structural roof could cost more than $10,000. 
Types of Covered Patios
There are several types of covered patios. They range from durable, permanent structures to temporary designs, such as sails. You'll pay less for a temporary structure than a permanent one. But because temporary patio covers aren't as durable, you'll have to replace them periodically, adding to the cost. Permanent structures don't require further investment after installation. However, they do require some maintenance to prevent costly problems. 
Understanding the full range of options for covered patios will help you decide on the best one for you based on its features and cost.
Shades and Sails
A shade or sail is a step up from a patio umbrella. These patio covers consist of large swaths of fabric with grommets at the corners. The grommets make the shades ready to hang. All you have to do is install fasteners or hooks where you want to connect the shade. You might be able to anchor the sail to an existing structure. If you don't have solid structures to hold the sail, you may need to install posts. Some brands of shades and sails come with posts.
You could spend less than $100 for a shade or sail. Buying and installing separate posts may add $20 to $50 to the project.
Pros:
Shades and sails offer several benefits, including the following:
Fabric is designed to be used outdoors

UV protection

Budget friendly

Can be moved to allow for more light

Great option for freestanding patios
Cons: 
Although they're the most inexpensive option for patio covers, shades and sails have the following drawbacks:
May be noisy in windy conditions

Deteriorates over time, especially when exposed to the elements

Not as easy as an awning to adjust

Will need to be replaced regularly

Doesn't protect against heavy precipitation

Prone to damage from wind and hail

Limited size
Awnings
Like shades and sails, awnings are typically made of fabric. However, they're more durable because they are made from a solid framework to support the fabric. Some awnings are retractable, offering easy adjustability in varying weather conditions. Outdoor awnings are usually made from moisture and weather‐resistant materials. However, fabric awnings are still subject to wear and tear compared with harder materials.
At a minimum, an awning costs about $400 to $700. But the price goes up to $2,000 to $4,000 if you choose a retractable option. Awnings made from vinyl and other non‐porous materials may also be more expensive than fabric awnings.
Pros:
More durable than a shade or sail

Can make adjustments based on the sun and weather

Don't take up much space, especially when retracted

Easy and quick to use

Customizable colors and patterns
Cons:
Usually require an adjacent structure for installation

Limited size

Vulnerable to damage from storms

Require regular cleaning

Can stretch and sag due to water pooling

Not ideal for drainage
Patio Covers
A patio cover is made of more durable materials than fabric. It is usually a solid structure that's built from plastic, wood, metal or vinyl. 
The main factor that differentiates a patio cover from a pergola is that the patio cover is usually attached to the home on at least one side. This means that it can be made from a similar material as the home's roofing. If you use professional roofing materials, including insulation, the cost for the patio cover will be much higher than if you use outdoor materials without insulation.
Expect to pay between $2,000 and $7,000 for a patio cover made from plastic or metal. A wooden structure typically costs upwards of $7,000. 
Pros:
Can be insulated to moderate the temperature below it

Provides adequate protection from overhead precipitation

May shade the interior of the home in that area, providing better interior temperature regulation and energy savings

Doesn't need to be replaced as frequently as awnings or shades

Requires minimal maintenance

Can add electrical wiring within the posts and ceiling
Cons:
Doesn't protect against windblown rain

Transparent patio covers may not shield you from sunlight

Less expensive materials and construction require more maintenance than permanent structures
Pergola
A pergola is similar to a patio cover. However, it can be built in a freestanding area. A pergola is typically constructed with at least four structural posts to support the roof. The roof may be partially open. For example, it can be made of slats of wood, PVC, lattice, or fabric. It may also be a more permanent structure, completely covered with a material such as wood, metal or thatch. 
You'll pay more for permanent materials on a pergola. Fabric is less expensive than wood or metal. The amount of material that you use also makes a difference. An open lattice design costs less than a completely covered pergola because it requires fewer materials. In general, however, a pergola costs between $2,000 and $6,000.
Pros:
Can be built anywhere

Offers the ability to create walls or add screens

Easy to build as a DIY project

Can be used to train vines for aesthetics and added protection
Cons:
Don't always increase property values

Wooden pergolas can be vulnerable to termite infestations

Requires more maintenance than a patio cover
Additional Costs Associated With Building a Covered Patio
We have covered the costs of different materials above. But the size of the covered patio also makes a difference when it comes to how much does it cost to build a covered patio. The intricacy of the shape also affects the cost. A basic rectangle or square is less complex to build than a circular or L‐shaped patio cover.
In most cases, you won't have to obtain a permit to build a patio cover. However, enclosed outdoor rooms or patios with permanent covers that attach to the building may require a permit to build. This will cost extra if you do it yourself. The price is usually worked into the quote if you're using a professional to build your covered patio.
You'll probably want to customize your space. Add‐ons such as fireplaces, lights, fans and televisions increase the price. Creating an enclosure with walls will also increase the price. However, a covered patio is still less expensive to build than a screened‐in porch or sunroom.