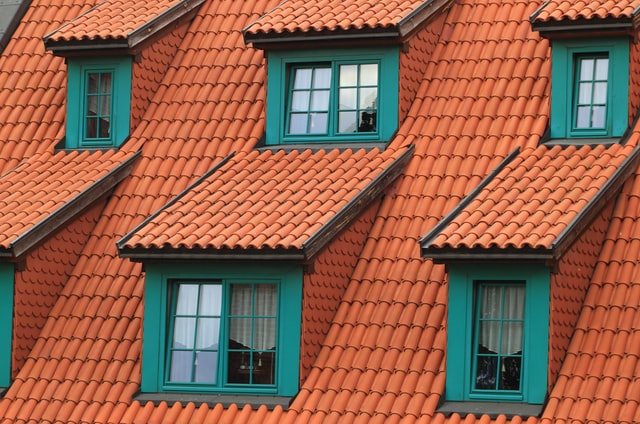 If you're preparing to replace a roof, you might be confused by the various types. Many people confuse shingles with tiles. Both styles of roof are common, but they differ in appearance, durability and life span.
What Is a Shingle Roof?
You're probably familiar with a shingle roof. Asphalt shingles are traditionally used throughout North America for their versatility and affordability.
Asphalt shingles are flexible, rectangular panels that have a coarse, gritty surface. They're applied to the roof in an overlapping pattern, which helps with drainage and leak protection. Asphalt shingles are usually created with some fiberglass for added durability.
You can purchase asphalt shingles in a variety of colors. Dimensional shingles are more resilient than basic three-tab options. Because they're so thick, they last longer than their less expensive counterparts. Some professionals refer to them as architectural shingles, and they can boost the curb appeal and value of your home. Luxury shingles are larger than traditional ones, mimicking the look of slate.
Wooden roofing shingles are less popular than asphalt. Although they provide a natural, rustic appearance, they're more complicated to install and maintain. Organic materials are more susceptible to rot and damage from the elements than asphalt or tile.
What Is a Tile Roof?
Some people refer to asphalt shingles as tiles. But in the roofing industry, a tile roof is usually made out of ceramic, clay, slate or concrete. The tiles are arranged in an overlapping fashion and sealed to the roof.
Tile roofs offer a distinct aesthetic than asphalt. They complement a Moroccan, Italian or Southwest design better than other types of roofing materials.
Tile is also incredibly durable. Whereas asphalt shingles last an average of 20 to 25 years, clay tiles have a lifespan of 100 years. The most significant type of maintenance that you'll usually do on a tile roof is replacing a tile if it breaks.
Although many people associate tile roofs with warm climates, they're ideal for snowy areas too. Snow slides easily off of tile. Tile also offers excellent drainage.
Differences Between Shingles vs Tiles
Choosing between a shingle and a tile roof comes down to your preferences and budget. There are benefits and drawbacks to each roofing style.
Cost – Tile roofs are pricier to install than asphalt.
Durability – Tile can last up to 100 years longer than asphalt shingles, offsetting the cost of installation.
Maintenance – Tile roofs are almost maintenance free. If you do need your tile roof inspected, contact a roofing company that is experienced with this material. Special care should be taken when walking on tile roofs. You should repair or replace broken tiles or shingles no matter what type of roof you have.
Fire resistance – Concrete and clay roof materials carry the highest fire rating. Fiberglass asphalt shingles also have a class-A fire rating.
Wind resistance – Asphalt shingles are not designed to withstand high winds. The weight of tile roofs makes them better in windy weather. However, tile is more likely to crack when debris makes contact with it.
Appearance – Asphalt shingles offer a conventional look. You can customize their texture and color, not to the extent that you can customize the appearance of tile. Tiles come in a wider variety of colors, shapes and patterns.
Climate – Asphalt shingles deteriorate more readily than tile in hot weather. Wind and precipitation can also cause them to lose their coating over time, making them less functional. Tile doesn't deteriorate like asphalt and can help keep your home cool in hot weather. Asphalt shingles also have light-reflecting properties, which help keep your energy bills low.
Weight – Tile roofs are much heavier than asphalt ones. The building's structure must be able to support the weight. If your home doesn't have an adequate carrying capacity, a tile roof may not be an option.
Increased home value – No matter what material you choose, a new roof increases your home's value. You won't get a 100% return on your investment, but you could recoup about 68% of the installation cost when you sell your home with a new roof.
Tile offers unique curb appeal and has many benefits when it comes to maintenance and durability. It may cost three times more to install than shingles, but it may last at least three times longer. With minimal maintenance requirements, tile is an ideal option for a roof in the Southwestern U.S. However, asphalt shingles are popular for a reason. They're more affordable, and just about every roofer is experienced with installing and maintaining them.
If you're not sure which option is right for you, give us a call. We specialize in custom roofs and know are way around tiles and shingles. We can give you the information that you need to determine whether to replace your roof with shingles vs tiles.