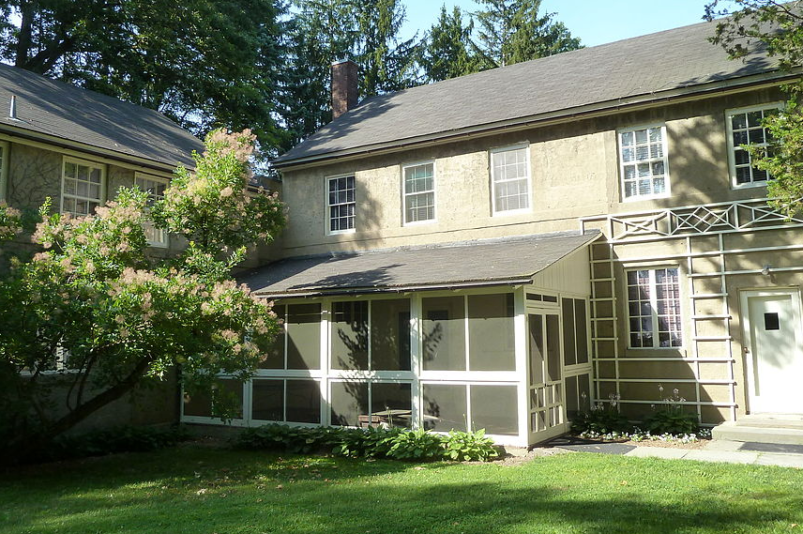 A screened porch creates an all-season room that expands your living space and allows you to make the most of your outdoor property too. The roofing choice plays a major role in the screened porch's usability. It needs to protect against the elements, maximize ventilation and properly divert rainwater. But a screened porch roof also needs to look great, especially if it's connected to your home. 
There are several screened porch roof options to protect your space and enhance your home's curb appeal.
Roof Designs for a Screened Porch
There are four primary architectural styles for screened porch roof options. Many homeowners wonder if they should mimic the style of the main roof with the porch roof. The answer depends on the shape, height and architecture of your porch's location. With the right planning, you can incorporate almost any style into your home. An experienced roofer can make suggestions that optimize the roof's performance while blending it in with your home's aesthetic.
We should also mention that you can have a screened porch with an adjustable  roof. However, in this article, we're focusing on more permanent options.
Gable Roof 
A gable roof is one of the most popular options for a screened porch. This design looks like a triangle from the side. It has a ridge down the center that serves as the peak of the triangle. The roof slopes down from the ridge on either side and is referred to as a double-slope roof.
This option maximizes air flow and light access because it offers plenty of space below it. The high central ridge creates a high, cathedral ceiling effect, which can make a small porch seem bigger and brighter. The vaulted ceiling that a gable roof gives you provides plenty of room to install lights or ceiling fans. 
Pros:
More head room

Increased air circulation and light

Finished look

Only allows for gutters on two edges

Better snow performance than roofs with lower pitches
Cons:
Tall gable roofs may cover existing second-story windows

The triangular facade lets windblown rain in if it's screened and not solid

Water dripping down the solid gable end can easily be blow in through the window screens
Hip Roof
A hip roof has four slopes that stem from a central peak or ridge. It resembles a pyramid perched on top of the building's walls. This shape gives it one of its most distinctive features—the vaulted ceiling. When a hip roof is installed on an attached screened porch, it might only have three slopes. The location where the roof attaches to the home serves as the fourth side.
Unlike the gable roof, however, the hip roof doesn't offer the triangular opening at the ridge, which makes it a bit darker underneath. If you'd like more natural light inside your screened porch, you could add skylights to a hip roof. 
Pros:
Unique, upscale appearance

Vaulted ceiling

Gutters can be installed on all four sides

Better wind performance than gable roofs
Cons:
Complicated construction and more materials required than other screened porch roof options

More costly than other types of roofs

Doesn't let as much light in as a gable roof
Flat Roof
A flat roof usually has such a gradual slope that it appears level with the ground. These are not usually completely flat; they have a slight pitch that prevents water from pooling. However, precipitation will not flow off of this type of roof as quickly as the other ones. That makes flat roofs a less optimal option in snowy climates, where snow accumulates on the surface. But flat roofs are commonly used for screened porches in Texas because they're versatile and straightforward.
Pros:
Make the most of your head room from wall to wall

Can take gutters on all sides to manage drainage

Pose less of a challenge when working around obstructions, like existing doors and windows

Allow for an upper-level balcony or deck
Cons:
Prone to

drainage issues

if not installed properly

Require more maintenance than other types of roofs
Shed Roof
A shed roof, also known as a single-pitch roof, is another popular option for screened porches. It has a steeper slope than a flat roof, making drainage a non-issue. You can place gutters along the eaves to direct water away from the structure.
The single slope is durable and does its job well. It also blends well with just about any existing architecture. A shed roof typically ends at a height of about 4 to 5 feet. However, you can have a single-sloped roof on a screened porch that gives you more head room at the edge. Making the roof as high as realistically possible promotes airflow and keeps the space cool.
Pros:
One of the most popular screened porch roof options

Ideal for long, narrow porches

Less interference with existing second-story windows
Cons:
The outer edge of the roof may come down too low to stand beneath comfortably

Not as well-suited to wider porches
Roofing Materials
The roof design often dictates the options for screened porch roofing materials. Asphalt tiles are popular on single-pitch roofs. But they aren't recommended for flat roofs or those with a low pitch. 
Beyond traditional roofing materials, such as asphalt shingles and metal panels, you can look into alternative roofing options for screened porches. Create a greenhouse effect with crystal-clear panels that provide little visual separation between you and the sky. Or add some character with terracotta tiles. 
Unless you're installing a temporary structure, such as a sail or awning, you will need to follow local building codes when installing a roof on a screened porch. You'll need a different type of underlayment for asphalt shingles than polycarbonate panels, for example.
Roof Options for a Standalone Screened Porch
Most screen porches are attached to the home. However, you might want to build a standalone structure in which to spend your time outdoors. Maybe you're looking for something more permanent than a pergola, and you've created an outdoor room complete with screens and furniture. You just need to decide what type of screened porch roof option to use.
The same roof options for an attached screened porch will work well for a standalone screened porch. You won't have to work around windows or balconies on the second floor. However, you will have to have a solution for all four sides. 
A shed roof might not be appropriate for a standalone structure unless the walls are taller on one side. A hip or gable roof transforms a standalone screened porch into an attractive finished structure with plenty of protection from the elements.
How to Pick the Best Screened Porch Roof
The structure and architecture of your home usually dictate your screened porch roof options. It helps to work with a roofing professional who understands the aesthetics as well as functional importance of a screened porch roof. For example, no matter how much you think you'll benefit from a hip roof, it may just not work for your space. 
Choosing an option that competes with your home's architecture is more than a superficial visual problem. The wrong type of roof can impede water drainage and create structural problems. The location of existing doors, windows, soffits, vents, pop-outs and skylights often limits the placement and design of a screened porch roof. 
Contact us for recommendations for your screened porch roof. We'll help you get the results that are the most visually appealing and protect your investment.