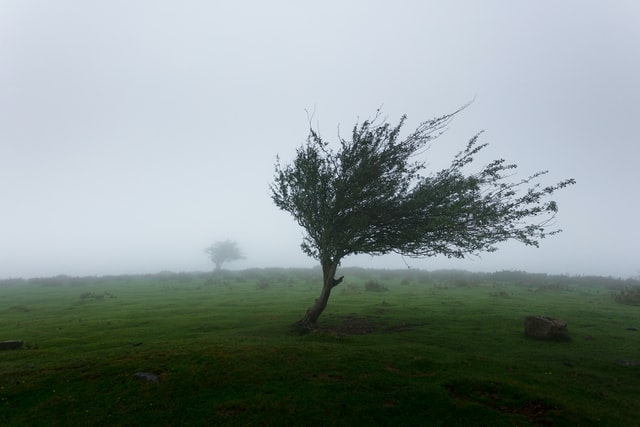 Your home at its most basic is a sanctuary from the outside world. It keeps you and your family safe and sheltered from the elements. Unfortunately, the elements themselves may sometimes cause damage to your roof, creating weaknesses in the structure that leave you more exposed to both the weather and further damage.   
Strong winds are among the most common culprits here. While most roofs are designed to withstand a certain amount of severe weather, strong gusts can be detrimental to both the roofing material and its underlying structural components. For many Texans, this is becoming a problem as the onset of climate change is predicted to make hurricanes more likely in the state.    
Knowing what to do about wind damage to your roof often comes down to a handful of factors. Let's run through them.   
Seek Professional Guidance 
As with any element of home repair, if you're in any doubt at all, you should consult a professional. This is usually the quickest and safest way to gain insights into the true extent of the wind damage to your roof. An expert knows what types of damage and hazards to look out for following a storm at both the interior and exterior points of the building. Whether you reach out to a contractor for a full roof repair or just an inspection with advice about how to proceed, it's worth your time doing so. In many cases, it also tends to be more cost effective, as it minimizes the risk of mistakes, additional damage, and accidents.
Don't forget to check your buildings insurance to check if wind damage is covered under your policy. If you've had your roof installed in the last couple of years, you should also review any warranties you have from the contractors. Coverage here can help save you the hassle of performing full inspections and paying for any repairs yourself. 
Attend to Safety
Aside from seeking professional assistance, your first concern when it comes to wind damage is ensuring safety. Remember, though you may think that there are no significant issues following a storm, there may well be elements that present hazards that you will not immediately recognize. You should perform a brief safety inspection before going any further. 
Wherever possible, you should do this without heading up onto your roof in the first instance. Walk  away from your building to a distance where you can clearly see a good proportion of the eaves and a little way above. Make sure there is no debris or roofing material that is loose and in danger of falling. The last thing you want is for you or a family member to become injured. This also prevents the chances of inadvertently shaking roof material loose when you're setting up your ladder for a full inspection.
This part of the process can give you a good preliminary idea of the safety equipment you'll need when inspecting or repairing your roof. Depending on the extent of the damage, you may need a strong plank of wood to walk safely across the surface and avoid causing any other damage. Alongside your ladder, before you proceed any further with your inspection be sure to don a pair of sturdy, well-gripped boots, and some working gloves. Make sure you leave any external inspections until after any rain has dried completely.
Check for Leaks
After heavy wind, it's important to check the interior of your home for leaks. Any signs of moisture ingress here is a sign that though you may not have any visually external signs of wind damage, there are underlying problems at play. This could be something as simple as the roof tiles or shingle have been knocked slightly out of place, to something more severe like the flashing has become buckled or pulled away from the surface. 
This also tends to be an inspection you can perform relatively simply yourself without climbing up onto the roof straight away. If the wind is the result of a severe rain storm, this should be easier to ascertain shortly after the event. Head to the highest point of your home and examine the upper portions of the walls for any signs of moisture. If you're in the attic, it's also wise to inspect the joists and other structural elements to see if there are any damp patches or signs of recent running water. It's also wise to examine any exposed insulation material and underlayment for dampness.  
Review the Tiles and Flashing
If you feel comfortable doing so, you can perform a review of the external tile roofing, shingles, and flashing. These are the most likely elements to receive damage as a result of strong winds. This can particularly be the case if the roof is old or was constructed with inexpert or poor workmanship. 
Alongside strict safety protocols, you should also be careful how you tread on the roof, particularly if you have roof tiles. While a tiled roof is designed to last for decades, walking on tiles is a quick way to damage them. Remember to spread your weight evenly across multiple tiles, rather than putting your focus on a single tile. 
The most obvious issue to look for is missing or completely dislodged tiles. But these aren't the only areas where you might have issues. Even slightly displaced tiles, shingles, and flashing can be the cause of leaks and ice dams in the future. As such, you need to look for even small variances in the placement of tiles and areas where the flashing may be buckled or pulled up, as well as physical cracks and breakages. 
With a clear view of the damage, you can then make a more informed decision about the repair route you need to go down. Remember that even single tile replacements require correct positioning in order to prevent future leakages. If you're not certain of your ability to perform any repairs or replacements yourself, it's best to seek professional assistance.  
Wrapping Up
Your roof is an important part of your property, but it can be a point of vulnerability during high winds. Remember that you should always put safety first, both when considering your approach to repairs and inspecting for potential hazards. Take the time to review both the internal and external areas of your home for evidence of wind damage and displacement. Wherever possible, it's always best to seek professional guidance to ensure inspections and repairs are carried out thoroughly and with a view to longevity.