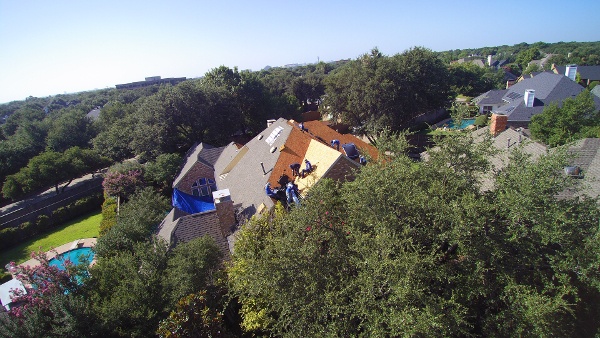 Paint is capable of refreshing your home's esthetics. If you have ever painted a room in your home, you understand how uplifting a new hue and clean walls can be. You might be tempted to give the exterior of your house a similar upgrade.
If you have roof tiles, you might wonder if you can revitalize their appearance with a coat of paint. Although it's possible to apply paint to any surface, it's not necessarily a great idea.
Changing the Color of Your Roof
If you're concerned about the color of the roof tiles and want to change them, you have a few options:
Replace the roof – This is an excellent option if your roof is seriously damaged and nearing the end of its life span. Make sure that you go over all of your options before selecting a new roofing material or color.
Paint your house – While this won't change the color of your roof, it will revive the curb appeal of your home. Moreover, capitalizing on color theory can help you choose a hue that complements your roof in a completely new way. Find professional painting companies in Indianapolis, Houston, Seattle, Boston, or anywhere you live. Depending on what state you live in, they may not be required to be licensed, so make sure you vet companies well before hiring them.
Clean the roof – Dirt, organic growth and pollutants can create a film on your roof that detracts from its visual appeal. Years of exposure to the elements can dull the surface and change its color. Sometimes, having a roofer clean your tile thoroughly is the best option for altering its color.
Clean the gutters – Keeping the gutters free of debris allows precipitation to drain properly from the surface of your roof. This can keep the color of your roof fresh and bright for a longer period of time.
Paint your roof – This seems like the easiest solution, but it's not always possible. You can only paint certain types of tile.
What Types of Tile Can You Paint?
Tile roofs come in a variety of materials, including concrete, slate and terra cotta. Each one requires a distinct type of treatment when it comes to maintaining and painting them.
You Can Paint Concrete Tile Roofs
Concrete takes paint quite well. If you use the right preparation and products, you can expect the new color to last for up to 10 years. You can also seal the surface without changing the color by applying a clear glaze.
You will need to clean the roof thoroughly before painting it. If the paint is applied to dirty or mildewed areas, it won't stick. You should also use primer and paint that are appropriate for exterior concrete and can handle the elements.
Most professionals use a sprayer to apply paint to concrete roof tiles. An air-powered paint sprayer provides an even coating that can be layered easily. However, you can also use a brush or roller.
You Can Paint Slate Roof Tiles
Slate tiles give your home natural appeal. People often choose slate for its neutral gray hue, and they don't usually paint the tiles. However, you might wonder if you can paint slate roof tiles to change the appearance of your home or improve the look of the tiles.
While it's possible to paint slate roof tiles, it's not usually recommended. Slate roofs are designed to last for at least 50 years. They don't require paint to protect them from the elements.
If you paint slate tile, you must use a product and preparation method that's suitable for the material. Still, it's likely that the paint won't last as long as the tile does. Plus, the process is irreversible. You will probably have to repaint the roof before it is time to replace it. Furthermore, you won't be able to restore the tile to its original appearance if you decide that you don't like the paint job.
You Can't Paint Terra Cotta Roof Tiles
Terra cotta tiles are made of clay, which is glazed with a material that bonds to the porous surface when it's fired at high temperatures. The glaze is designed to protect the surface of the tile, making it resilient to the elements.
Most terra cotta roof tiles come in a reddish hue. They offer a rustic look that's reminiscent of a Spanish villa. If you want to change the style of your home or create a more modern feel, you might wonder if you can paint terra cotta roof tiles. Some homeowners also consider painting tiles to disguise damage or stains.
Experts don't recommend painting terra cotta tiles. The paint won't adhere well to the surface of the tiles. When it's exposed to the elements, paint can peel off or wear away.
Pros and Cons of Painting Your Roof
Repainting your tile roof offers several benefits. However, there are downsides as well.
Pros:
If you use the correct techniques and products, painting a tile roof offers the following benefits:
Cons:
The disadvantages of painting a tile roof include the following:
Requires regular maintenance to ensure that the paint remains in good condition
Requires knowledge, skill and safety experience
Walking on the roof can damage the tiles
Using the wrong product or technique can impair the appearance and quality of the roof
Roof paint can deteriorate quickly in areas with intense sun or severe weather
Not a substitute for repair
Painting isn't recommended on windy days
You could void the warranty
How to Restore Roof Tiles Without Paint
If you're considering painting your tiles to camouflage damage, you should have your roof restored instead. A roofer that is experienced with your roofing material can give you an idea of the techniques and process that are used for this procedure.
The basic steps for restoring roof tiles are as follows:
Replace fractured and chipped tiles
Remediate mildew, algae and lichen growth using an anti-fungal product
Revive the surface with a high-pressure cleaning
Recap the roof ridge tiles
Roof tiles generally last from 50 to 100 years if they're kept in good condition. If the tiles have already been glazed, you won't need to apply a sealant. However, unglazed terra cotta tiles do require sealant. Check with a roofing expert to find out whether sealing your tile is an optimal way to update it.
Whenever you consider making changes to your roof, it's a good idea to consult with an expert. At Presidio Roofing, we offer free estimates for the job that you're considering. We can go over all of your options, including roof cleaning, repair and replacement, so that you don't waste time on a project that won't last. Your roof safeguards your house, family and investment. Choose the experts that will optimize this protection so that you can make the most of your home.